Top wellness and fitness trend
Pilates is the exercise discipline that showed the most resilience throughout the ups and downs of the Covid pandemic. Our research shows that the public stuck with, or turned to, Pilates when other exercise disciplines were experiencing tougher trading conditions.
Formed by Joseph and Clara Pilates in the 1920's when they opened Body Conditioning Gym in New York City, Pilates has evolved through the years while sticking to its original philosophy and principles.
Today over 12 million people enjoy the benefits of Pilates, establishing itself as the top wellness and fitness trend in the UK throughout the pandemic, performing even more robustly than Yoga.
The popularity of Pilates
When assessing the popularity of Pilates the main factor was consumer attitudes to the discipline. Pilates enthusiasts, more than in other areas of fitness and wellness, considered Pilates to be an essential part of their routines, rather than a hobby.
Moreover, in a period where people were particularly keen to avoid using health services, we saw consistent feedback that the low-impact, low injury risk reputation of the discipline saw consumers turn to Pilates rather than disciplines that they perceived as riskier.
Finally, Pilates has proved to be a more convenient form of exercise during the past year, as lower intensity and simpler forms of Pilates were perfectly suited to participation at home.
Pilates in numbers
Lower impact exercise saw a 2556% increase in bookings between January and July 2021 on Gymcatch. Pilates alone has seen a 25% increase from 2020 to 2021, despite the incredibly challenging backdrop. In the UK Pilates is a truly national discipline with participation levels slightly higher in London and southern counties but distributed throughout the country with almost half of English counties searching for a Pilates exercise class.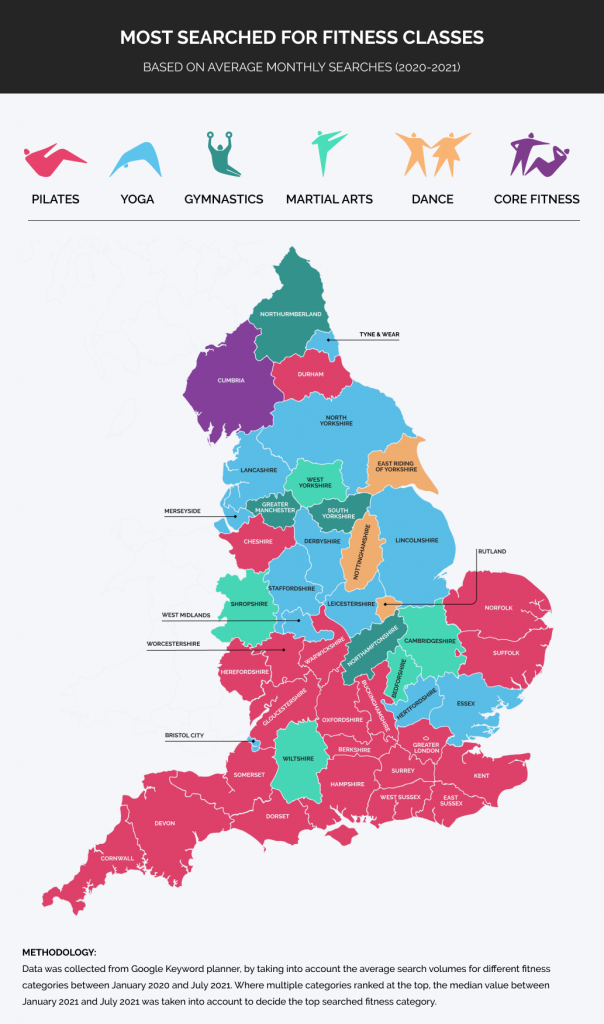 Virtual Pilates classes are here to stay
Many consumers have fully adjusted to online classes and are now seeking the perfect blend of face- to-face and virtual sessions. But this does not mean that face-to-face delivery is going anywhere. The majority of consumers have returned to in-person delivery and in most cases virtual sessions appear to be supplementing, rather than replacing the in person experience.
Following the end of the national lockdown in the UK in April 2021 we've seen a steady recovery of in person delivery. In May 25% of classes were still online only. During June and July 2021 85% of classes were delivered in-personGymcatch expects about 10% of pilates participation to permanently switch to virtual.
For more information on Gymcatch yoga studio software and how it can help with your yoga or pilates business, get in contact to book a demo or start a free trial.
I am a marketing and business development professional with experience in delivering successful marketing strategies for client acquisition and retention. I have a passion for building engaged communities across different channels working with partners to amplify messaging. Ene's focus at Gymcatch is on growing and maximising strategic partnerships through business collaboration.