Personal training business software
Personal training booking software at unbeatable value.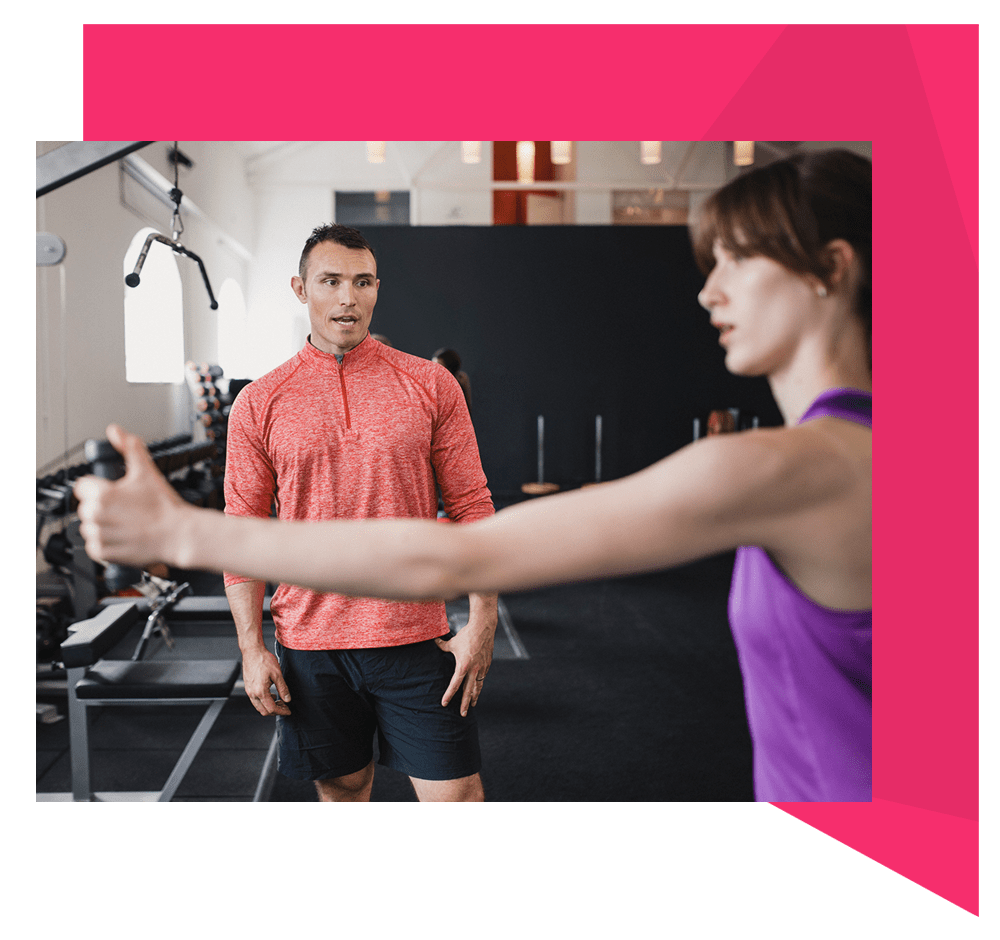 Personal training booking software built for professionals
Gymcatch is the ultimate fitness class booking software for trainers. As a personal training app for trainers, Gymcatch empowers you to efficiently and effectively manage your schedule, bookings, payments, and customers in a convenient and professional manner.
Renowned as an industry-leading platform, Gymcatch revolutionises the way you handle your fitness classes, making it easier than ever before to stay organised and provide exceptional service to your clients. Experience the power of Gymcatch and elevate your training business to new heights.
More on booking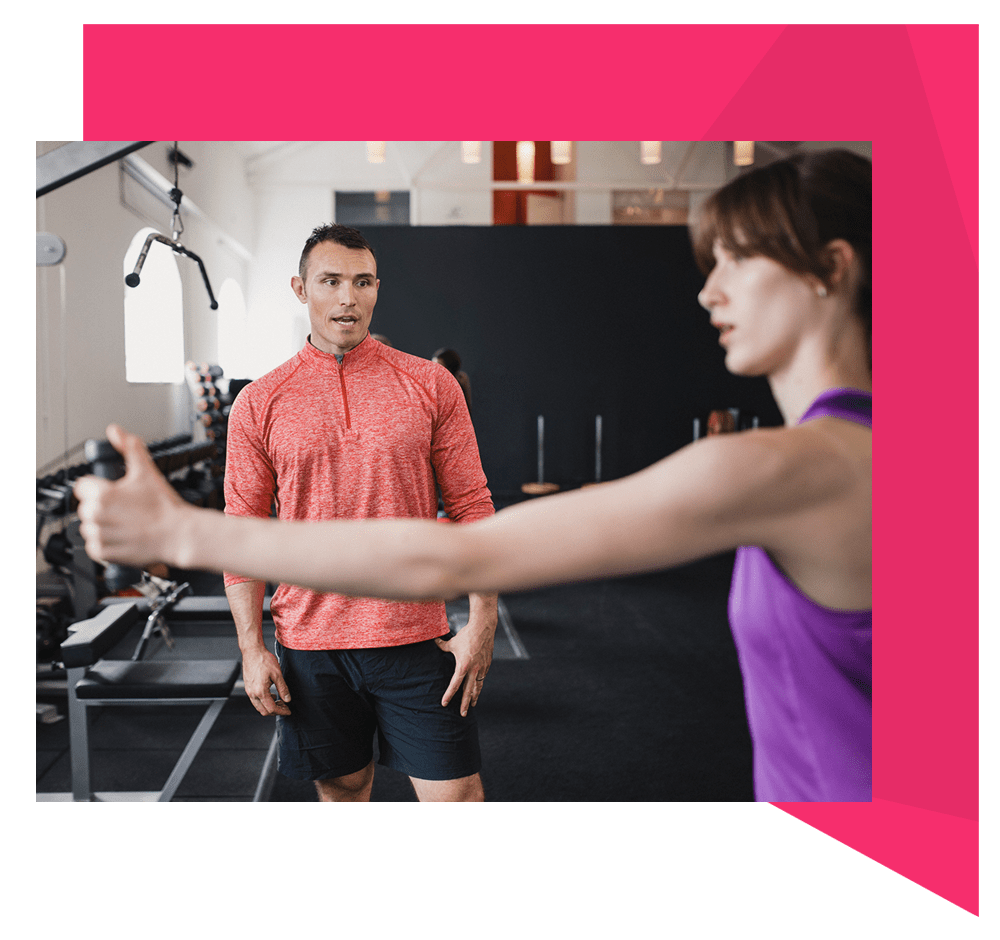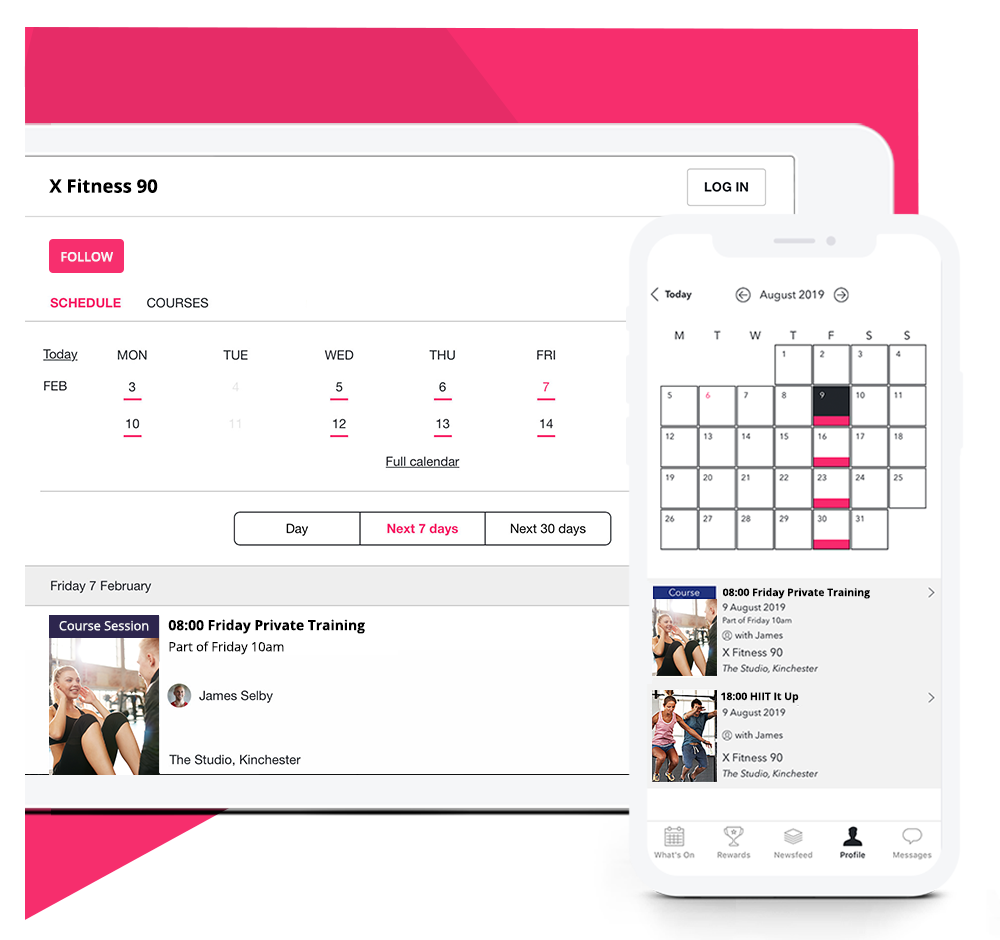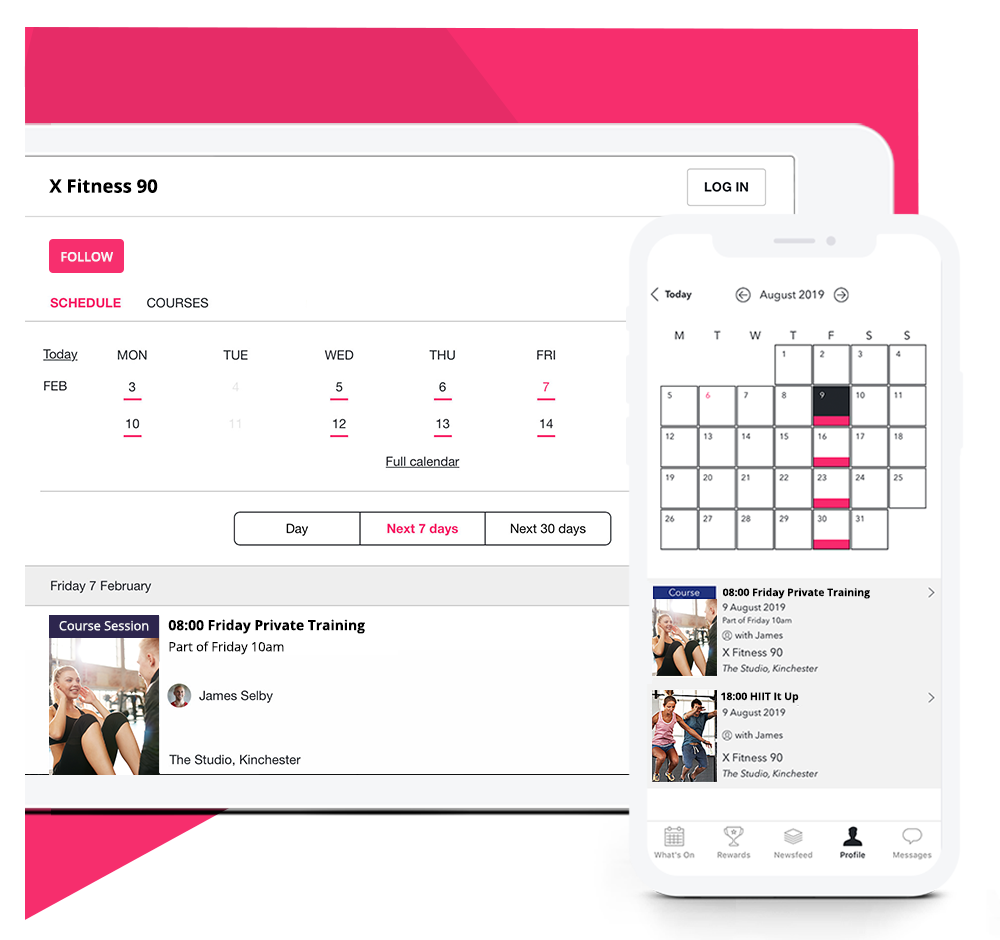 Personal training scheduling software that your clients will love
Gymcatch is the ultimate personal trainer business management software designed to optimise efficiency for both you, your team and your clients. Our comprehensive personal training business software streamlines your operations, making life as efficient as possible.
With our personal training scheduling software, available on iOS and Android Apps, your customers will find it effortless to access your schedule, make bookings, and complete payments. We have prioritised intuitive design, ensuring that the process is seamless and straightforward.
Our PT scheduling software offers a range of features to enhance the customer experience. From scheduling and automated reminders to notifications, we maximise attendance and reduce the risk of missed appointments. The flexible booking and payment options we provide are user-friendly and intuitive, enabling your clients to effortlessly book and pay for your services.
Gymcatch is your very own personal trainer calendar app, simplifying your business management and allowing you to focus on what truly matters
More on tools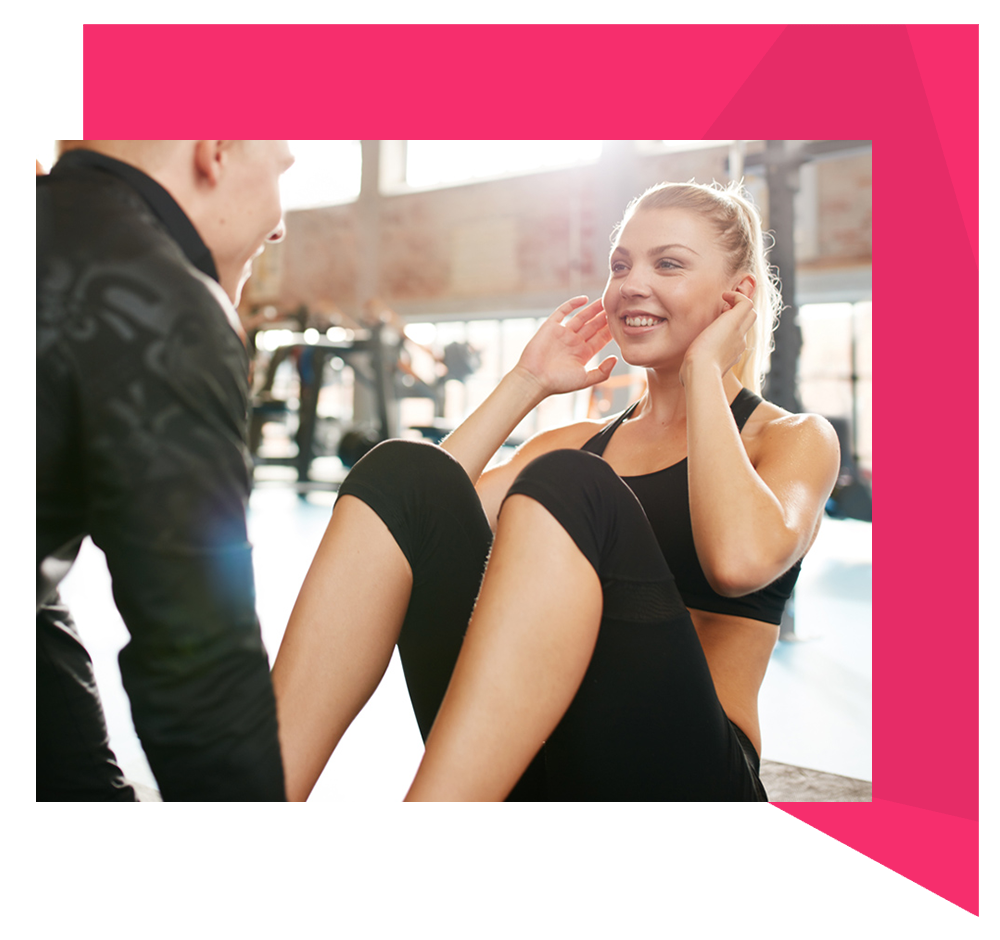 The complete personal training management system
Gymcatch is a personal trainer app designed to cater to your specific personal training business model and payment structure. Regardless of whether you offer pay-as-you-go classes, appointments, bundles, passes, courses (blocks), or run promotions through discount codes, Gymcatch has a comprehensive suite of flexible tools to support your business operations.
With Gymcatch's personal training management system you can offer your customers an exceptional booking experience through user-friendly platforms, including web, iOS, and Android. You can also book them in yourself and effortlessly deduct the appropriate packages or sessions. Our platform ensures seamless and efficient management of bookings and payments, providing convenience for both you and your clients.
Additionally, Gymcatch enables you to maximise loyalty and recurring revenue through recurring passes and memberships. Our all-in-one fitness platform simplifies the process, allowing you to effortlessly handle these aspects of your business.
Experience the power of Gymcatch and unlock the full potential of your personal training business. Streamline your operations, provide a great booking experience, and optimise revenue with our easy-to-use and versatile personal trainer app.
More on memberships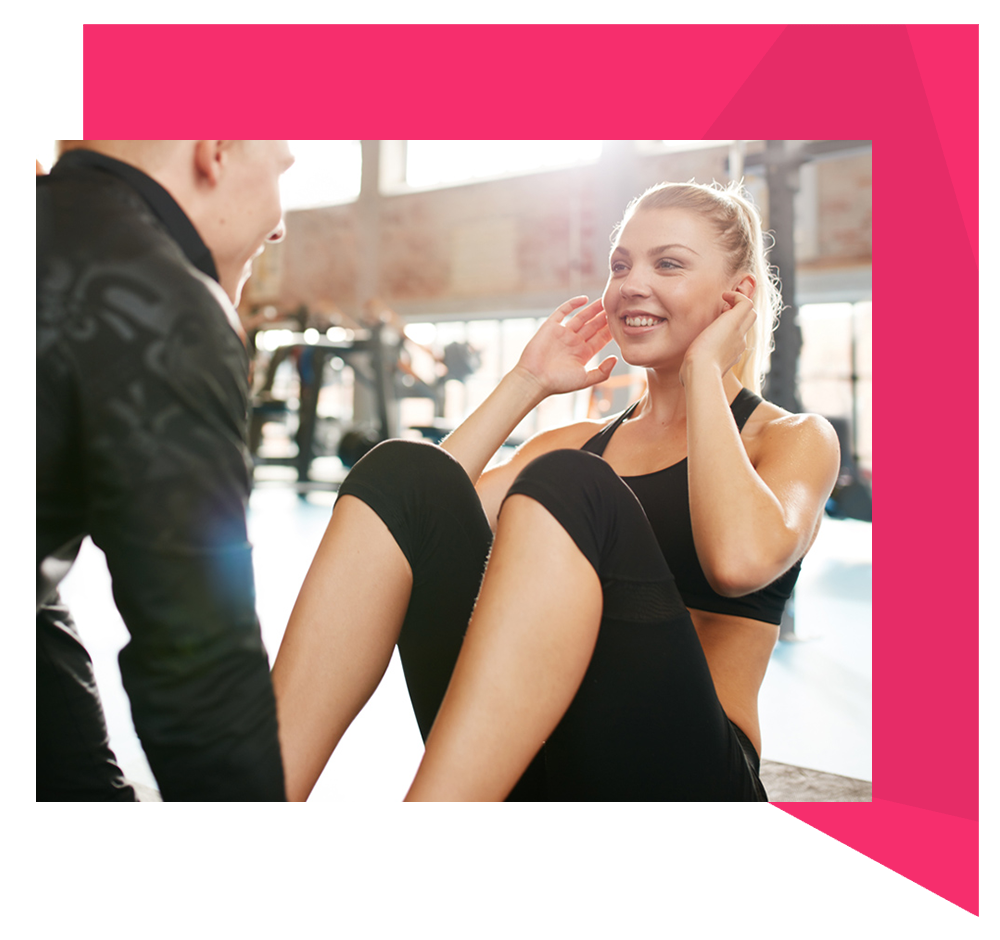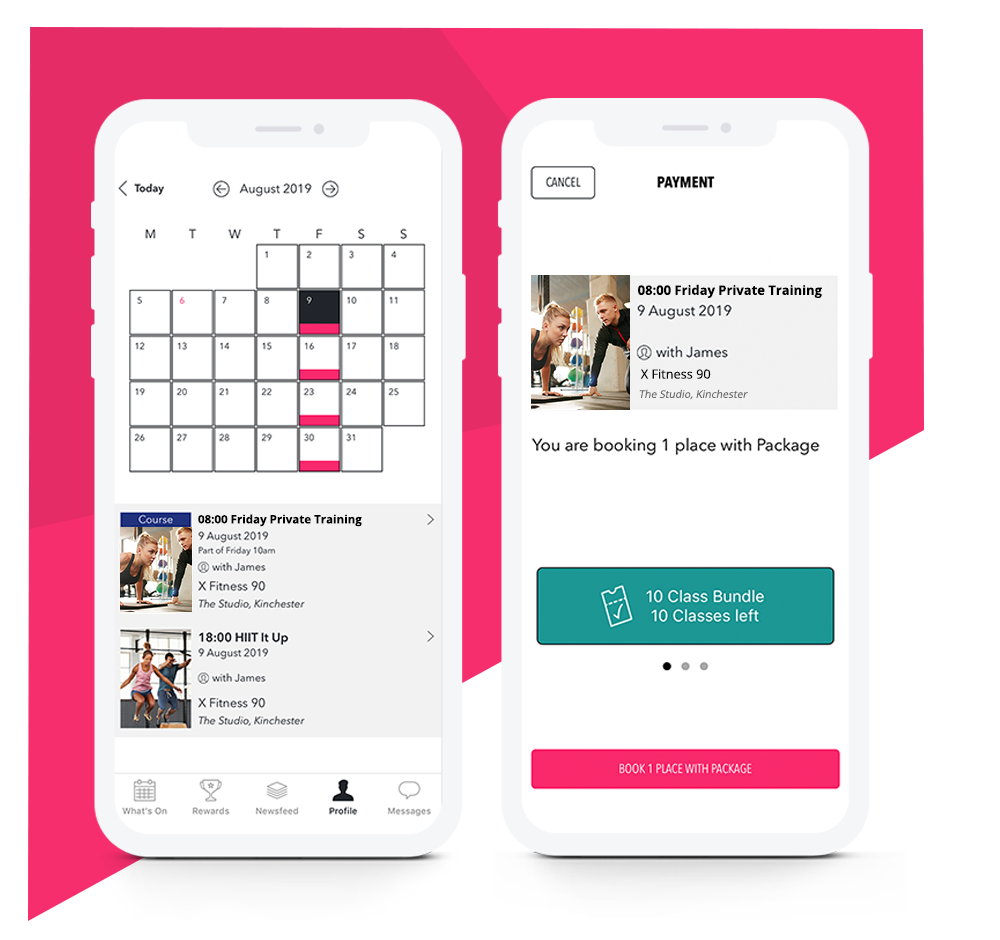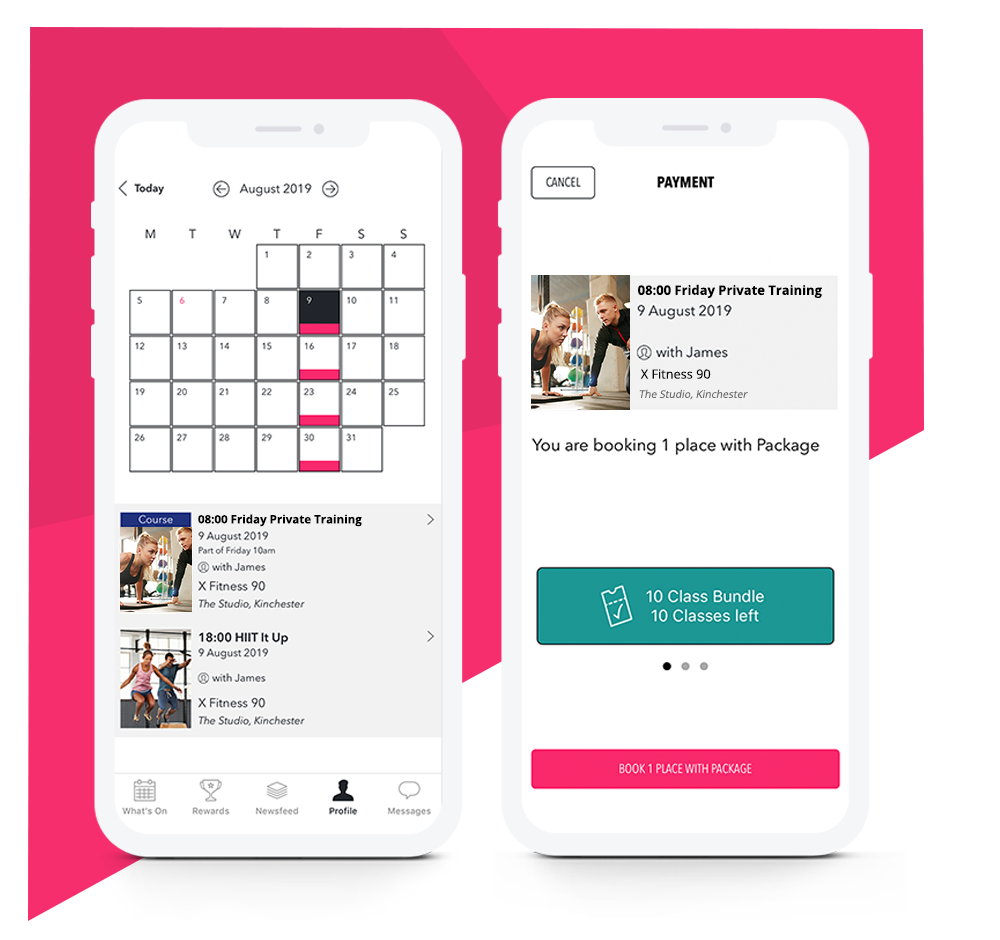 Personal training apps for trainers
Whether you are a solo trainer or you are managing a group of trainers, we have you covered.Our personal trainer app offers team settings that allow you to add an unlimited number of trainers to your account. With our fully customizable team permissions, you have the flexibility to grant different levels of access to your trainers, empowering them to contribute to the growth of your business.
Expand your team and scale your business at your desired pace while Gymcatch ensures that you have full control over the access and responsibilities assigned to each trainer, tailoring their permissions to suit their role within your organisation.
More on features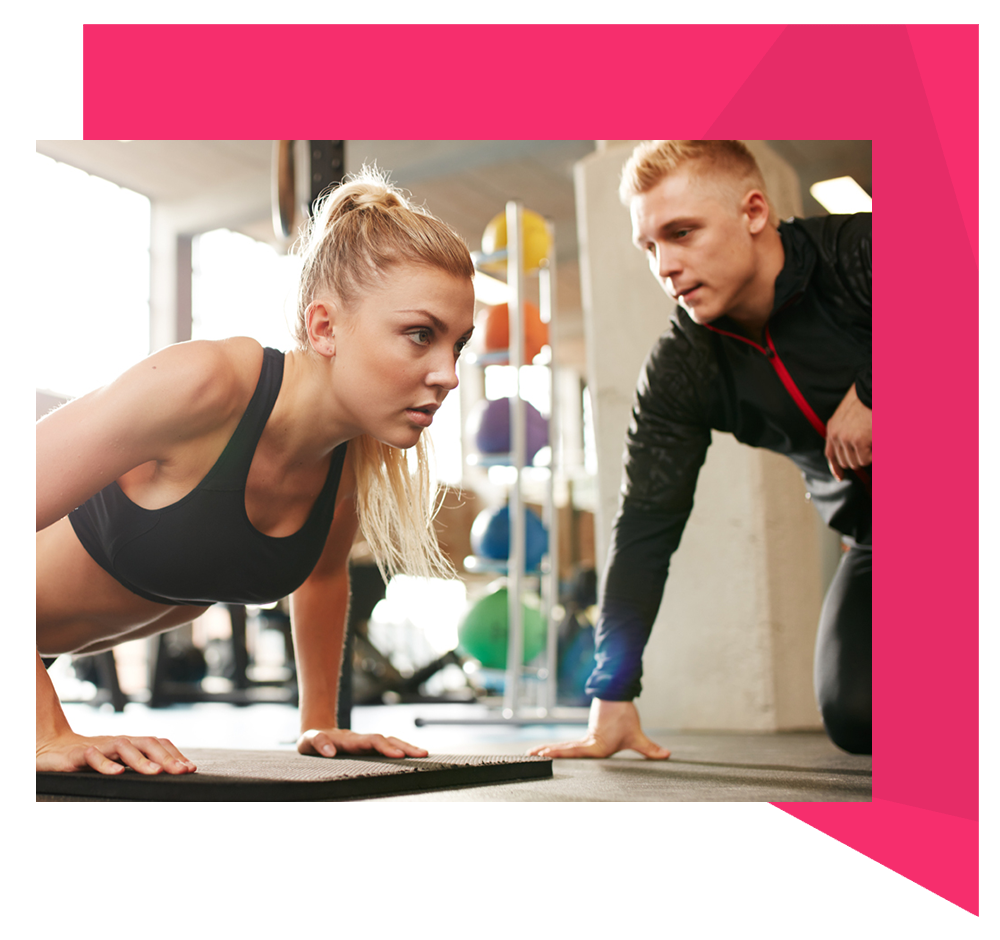 Livestream and on demand video made easy
Gymcatch brings the power of simple and user-friendly technology to businesses of all sizes, offering clients video content effortlessly. By providing online services, personal training businesses can offer greater convenience to their clients while unlocking flexibility and growth opportunities.
With Gymcatch, you can easily share and manage links for livestream or on-demand content, ensuring seamless access for your clients. Our integration with Zoom simplifies the process even further. Gymcatch auto-generates, shares, and updates meetings, all in one centralised platform. This integration saves you time and effort by eliminating the need for manual coordination and streamlining your virtual sessions.
Experience the convenience and efficiency of Gymcatch as you effortlessly share and manage video content for your clients.
More on virtual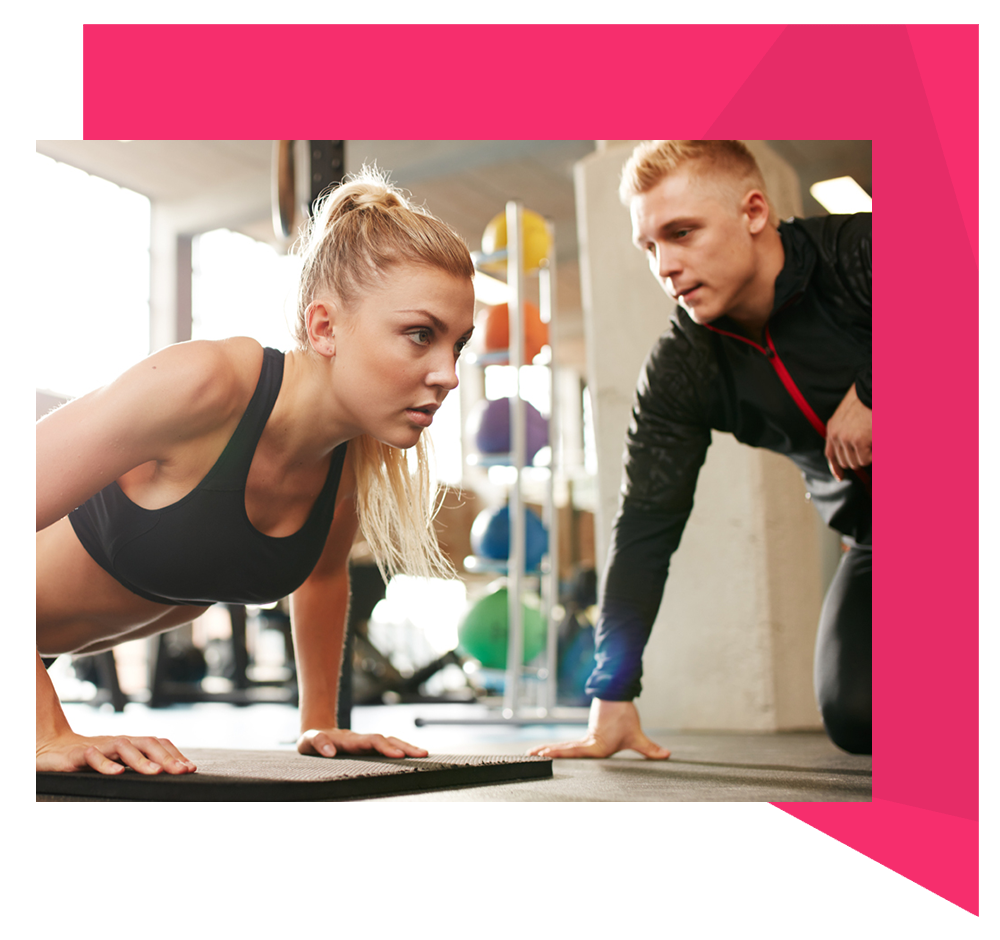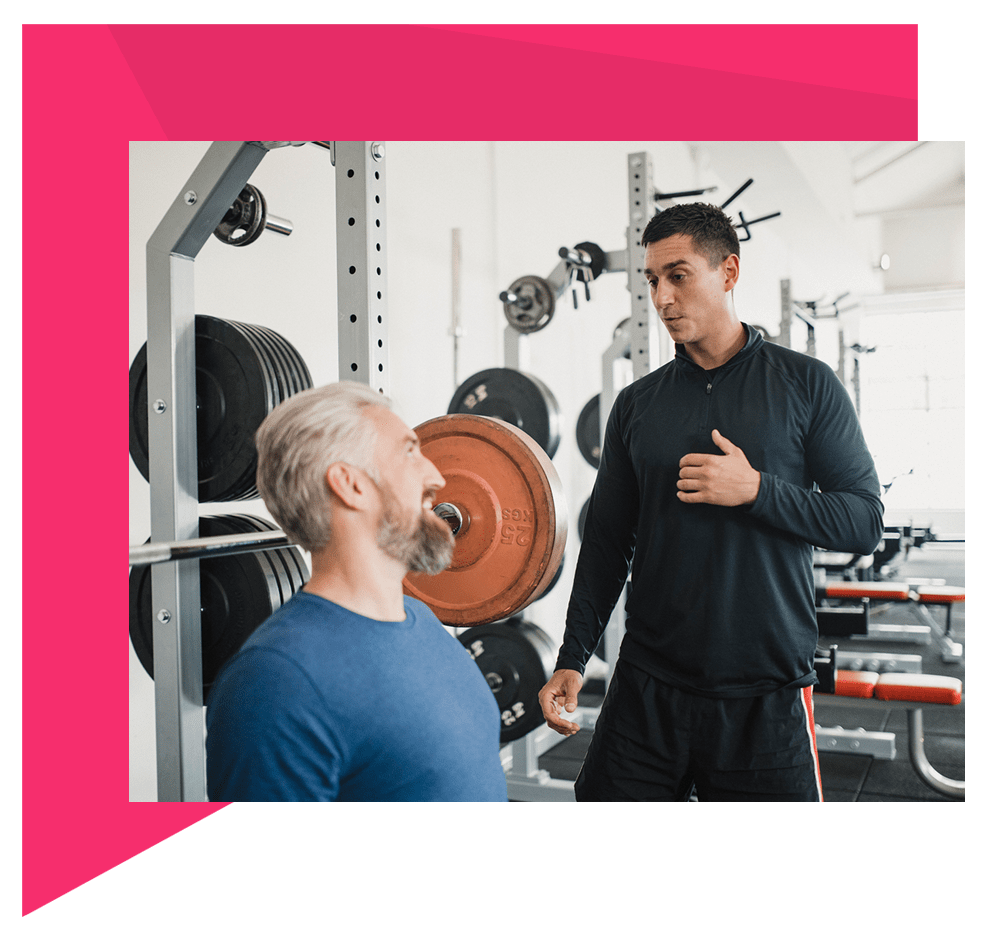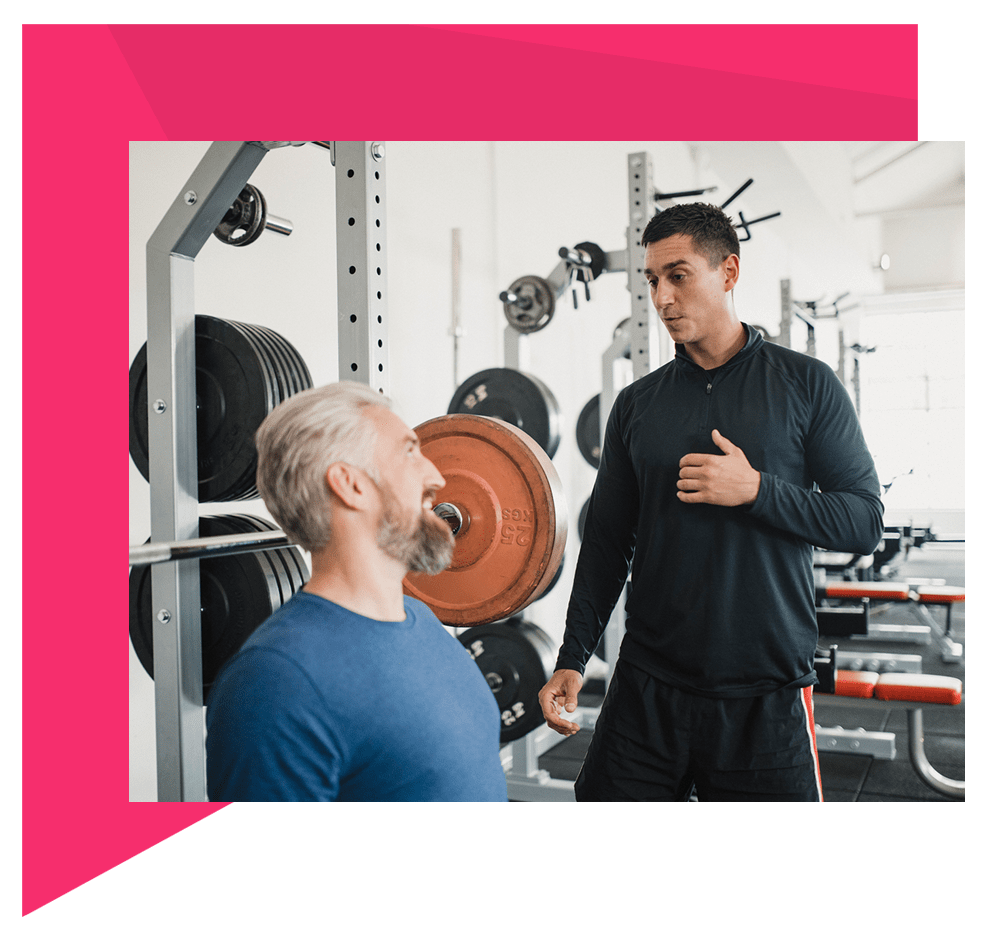 A completely free personal trainer software trial
At Gymcatch, we understand the importance of affordable and exceptional personal training business software. We firmly believe that great software should be accessible to every fitness and personal training business, regardless of size or budget. That's why we have created a pricing model that prioritises affordability.
With this in mind, we do not scale costs with usage. After the free trial period,you are billed on a rolling, month-to-month basis. Our pricing package is simple and transparent: you pay for the base plan and any additional bolt-on features that you require. This straightforward approach allows you to tailor your software to meet your specific needs without incurring unnecessary expenses.
To make Gymcatch even more cost-effective, we offer a peer-to-peer referral scheme. By referring other businesses to Gymcatch, you have the opportunity to earn free months of service. This referral program enhances the value of our already exceptional software, making it the best value for money.
More on pricing
Our PT platform makes your business more efficient
Complete digital offering
A digital presence for you, your team, customers and prospects for in-person, livestream and on demand sessions across the web, iOS and Android. Manage your customer relationships anywhere and ensure you always have the information you need by setting required contact and waiver information.
Payments and billing
Receive payments direct through Stripe. Automate branded receipts. Optionally offer 'pay on the door' selection for cash buyers and link to your accounting software.
Drop-ins and multi-buy
Set different drop-in ticket prices and enable customers to multi-buy for friends and family. Includes all the features you need to maximise revenue and offer promotions with wait lists, cancellation policy with auto-refund and discount codes all included.
Packages and courses
Take card payment for pay as you go clients, create passes, bundles, memberships and free trial options that can be purchased and tracked, all with customisable terms and conditions. And for courses our features allow your clients to sign up for a course in one simple transaction block booking with the option to open up sessions for drop-ins and swaps.
Website and Facebook
Link from anywhere to your Gymcatch booking page or embed the booking process directly into your existing website.
Analytics and exports
Run custom booking and purchase, attendance, instructor and pricing reports across your business. Easily export reports, customer information and registration information to .csv files.
Gymcatch is powered by referrals
1000s of business owners, sharing a passion for fitness, reducing admin and increasing revenue.
"Gymcatch has honestly been the backbone of my business for the past 4.5 years. Without it I would struggle for sure because the admin would be too much. It's like my own 'virtual' personal assistant handling everything for me behind the scenes. It just works… so well!

I've used Gymcatch for group training, personal training and taking classes on Zoom since 2018 and I genuinely wouldn't want to use any other system. The team are amazing and always on hand to help with any queries no matter how big or small.

If you're reading this and considering singing up, I highly recommend you do so… plus it's super affordable!

Ben Hulme

PT and owner Boot Camp at Tulleys
"Using Gymcatch has meant that I have flexibility with my clients as well as keeping my business looking professional. I can focus on what I do best, creating their workouts and supporting them with nutrition, happy days!

Since switching to Gymcatch I've saved £900 a year with no drop off in service to my clients and gained extra functions that make my life a lot easier.

Anna Martin

PT and owner Anna Martin Fitness / Always Moving Forward
"Gymcatch has been a brilliant discovery for my business. It's made it simple for clients to book sessions and keeps all the info I need in one place.

With the option of various bolt ons, you can easily customise the services that you want and not pay for things you don't want. Connecting with Stripe also makes my accounting easy too! Love it!

Lee Shallcross

LEE Personal Training
"Gymcatch has made life so much easier with my clients. I am not great with computers and I managed to step it up my self. Both myself, my partner and my clients have found it very easy to book, adjust and add sessions.

It's great if for new enquiries too, I can send clients our link and they can instantly see what days and times I am available so there's none of this backwards and forwards trying arrange a suitable date for PT sessions, and it also looks more professional. I highly recommend Gymcatch!

Tammy Richardson

PT and co-owner The Avenue Fitness Studio
"I have a client based spread over a significant area, delivering training in multiple locations including parks and homes. With travel time and a busy schedule I needed a solution that was easy to use and streamlined my admin.

Gymcatch is a very useful tool which takes the pain out of managing bookings. I have Gymcatch integrated into my website and use the payments functionality to ensure I get paid upfront for my sessions so I don't miss out due to cancellations.

I intend to use more of the features as my business grows, but what I'm using at the moment provides real value to my business. On the rare occasion I have had to use Gymcatch support I have found them very helpful and responsive.

Grant McCall

Grant McCall PT
"I love how I can run my classes on the go and keep on top of everything from my phone. My clients love the app too as they are able to book classes at any time.

Sarah Swainsbury

PT and owner Celebrity Circuits
"Gymcatch enables us to sell our sessions online and to provide clients with an app to book through. Very easy to set up and the value for money is excellent compared to other providers. Excellent value for money!

Lawrence Arsalides

LA Personal Training
"I wouldn't be without Gymcatch now. It enables my clients to pay via an app and manage their own sessions. I run a variety of options for my clients. I have classes, online groups and 1-1 PT sessions and I am able to set these options easily in the app. I can offer packages and contact clients easily if there are any last minute changes.

Jo Adams

PT and owner Future Fitness
Great software Overall: It's made the process of setting up our new business so easy with everything being in the same place for bookings & payments & customer details. Pros: We have loved using Gymcatch for our business, there service is second to none & answer any questions. The app is easy to use for our clients and can offer many options. Cons: Just a few little things which would make it easier for us like discounts applying to memberships etc. but all things we can get around (with the help of gymcatch)
James Benedetti
2023-09-15
My Gymcatch review Overall: 10 Pros: I like the fact i am on a free trial - very easy and quick to create a class and put it on a time table with all relevant information about the class - customer service has the bot for most commonly asked questions and also a person to speak directly to - very good. Cons: I haven't found anything yet ! Its a great asset for me and I cant see me switching .
GYM CATCH is a MUST for Group Fitness Instructors! Overall: Amazing so far! Pros: The ease of which myself and my clients are able to use the management portal and APP. Makes my job a great deal easier and I think it will be a great investment for my business. Cons: I have nothing negative to say about the APP so far. I have been using it for approx 8 weeks.
Scott Hutchison McDade
2023-07-21
Incredible software and amazing team Overall: Fantastic Ollie and his team are amazing. There lots of resources available to help navigate through the system and having the ability to easily have an online chat to support anything you need is amazing. Pros: Gymcatch had made our wellbeing centre much easier to manage and saves so much time being fully automated and easy to navigate. Cons: Nothing I'm delighted with service and product
Debbie Haworth
2023-06-27
Ease of use Overall: Exact experience, only reason leaving I am closing down the business Pros: I used gymcatch for my business. It was easy to use and easy to keep in touch with clients. Had all of their information all in one place and you can text and email from there. Cons: Nothing really, I found the experience very good
heather kennett
2023-06-20
Great Studio Spftware Overall: customer service is excellent Pros: Great Value for Money , easy to use, has an app too Cons: Would like to see a dashboard for financials but can be accessed by stripe
Mckasey Williams
2023-06-04
Mckasey's review Overall: Being a user of this firm is great Pros: Being able to book my schedule in my own time and being able book online Cons: real-time Updates aren't as accurate as they make it seem
New user of GC and a total technophobe user at that! Overall: I am totally blown away by the amount of support GC have given me with setting all this up. I am totally untechnical and it was very daunting for me (64 this year, brain cells slowing and not technical even when younger...). The level of support, patience and understanding from the GC team along with the effective outcomes has been amazing. Once you know what you are doing, it is so straightforward and I am flying with it all now. I honestly cannot believe how easy it all is so if you are worried about taking the leap, just do it coz if I can do it, anyone can. So many videos and posts showing you how to do it too. I hope the GC team are proud of their high level of support to their customers - really superb all-round. I am a very happy customer, thank you x Pros: The online scheduling is so effective and has proven really popular with my customers. I LOVE this! Cons: When I update a session, would be great if customers could be texted from you instead of emailed. Whilst the notification to the customers is really helpful and saves me so much time, not everyone checks their email daily and if a last minute or same day change, a text would be heaps better.
Overall great product that ticks boxes Overall: This has been hugely labour saving for me and although it's taken some time to consider how to adapt my payment model to fit with the options available in GymCatch, it's really been transformational (and I've tried at least 3 other products and reviewed several more in great detail!!) Pros: Very easy to set up, the interface is nice and clean and the support has been fantastic - quick, honest and helpful Cons: It would be nice if there was an easier way to test things from a user perspective when setting up from scratch. You can of course create a test account but then you have to pay out for test classes/appointments. I'd also really like it if users could just scroll down a chronological list of appointments/classes if they wanted, rather than always having to choose a specific date from the calendar - just as an option.
Best Customer Service!!! Overall: This software has allowed me to seamlessly run my business from scheduling to accounting. It has given me so much of my time back, I don't need to spend hours on admin anymore because of this. It is very user friendly and it did not take my customers long to get the hang of it. The best part has to be the customer support. If anything ever goes wrong or one of my customers needs assistance beyond my control, the support team are absolutely amazing. I never have to panic as they respond instantly via a live webchat and no issue ever goes unresolved. They are so well trained and knowledgable about all ends of the software. It is so refreshing to ask for help and actually receive exactly what you need. 10/10 would recommend. The return for what you pay for is next to none!! Pros: This software has allowed me to seamlessly run my business from scheduling to accounting. It has given me so much of my time back, I don't need to spend hours on admin anymore because of this. It is very user friendly and it did not take my customers long to get the hang of it. The best part has to be the customer support. If anything ever goes wrong or one of my customers needs assistance beyond my control, the support team are absolutely amazing. I never have to panic as they respond instantly via a live webchat and no issue ever goes unresolved. They are so well trained and knowledgable about all ends of the software. It is so refreshing to ask for help and actually receive exactly what you need. 10/10 would recommend. The return for what you pay for is next to none!! Cons: It has everything I need. Sometimes I am limited with features however, I feel that the limits are very niche to my industry. I don't think most businesses would need the things that I would.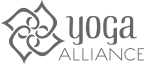 Professional booking and customer management software at unbeatable value
Get started
1 month free. No credit card required. Cancel anytime.