Communication and community
Grow your community, brand and client relationships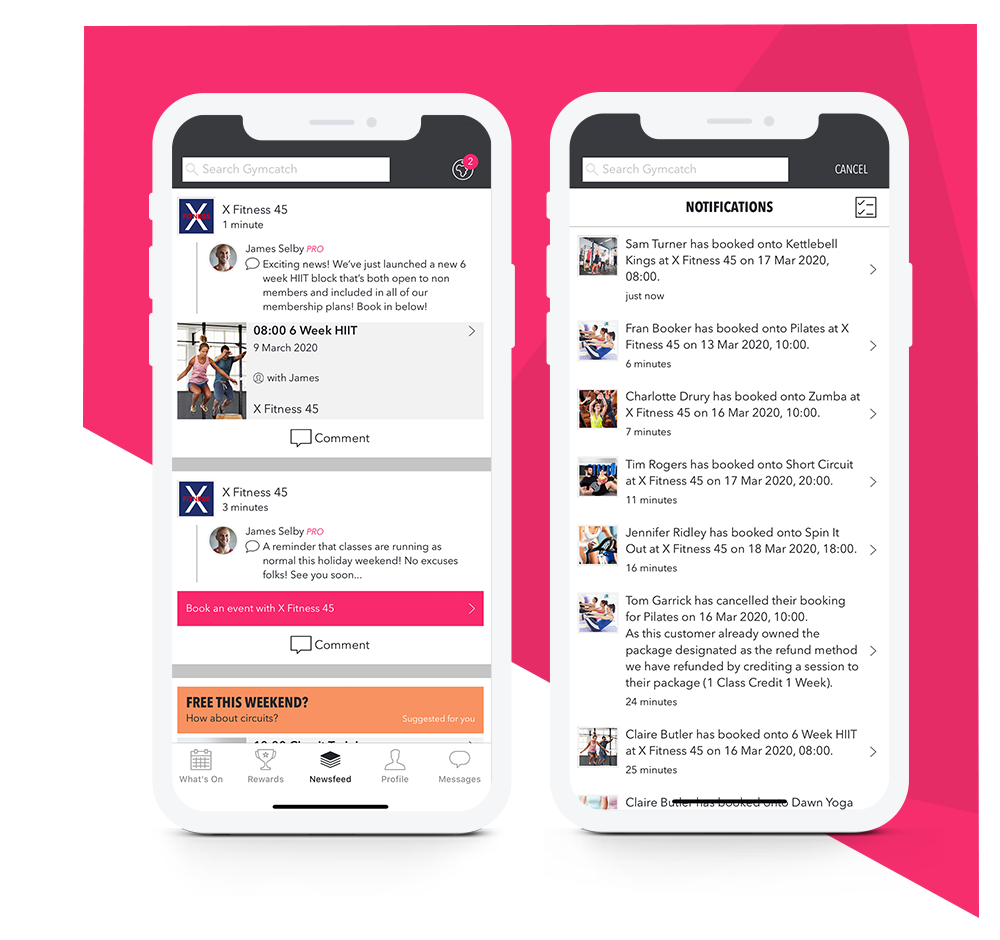 Helping you keep clients happy
Happy clients are the lifeblood of a health and exercise business. Sometimes delivering great services isn't enough. Gymcatch's fitness booking and management system help you with some of the other parts of running a successful fitness business.
LEARN MORE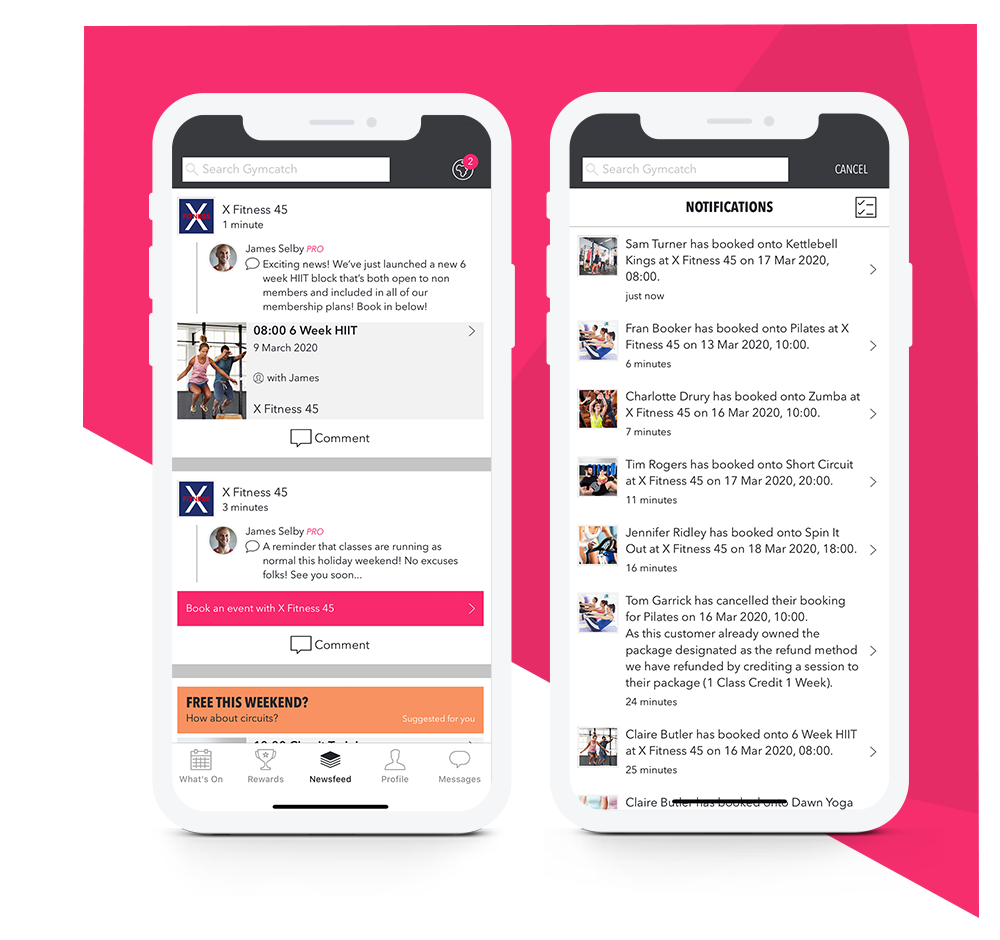 Communication and rewards
COMMUNICATION
There is always a balance between the personal touch and efficiency. Our booking software helps you achieve that balance with customisable automated notifications for you, your team and your customer, in-app messaging and email.
COMMUNITY
A business newsfeed is available for posting wider bits of information and direct messaging in-app when you need to communicate with specific customers. These social features make it easy to keep customers up-to-date and build community. Customers can refer you to their friends in-app.
NOTIFICATIONS AND REMINDERS
Bookings sync with calendars, customisable reminders and push and email notifications provide all important confirmations and updates.










"Gymcatch is brilliant in every way. It's simple to use, both as a business and a client of my business. Right from the beginning the support from the team has been second to none."

Amy Bobbins

Tribe All Fitness
"I love Gymcatch. Even more importantly, so do my members, booking is so simple, and it gives me all the functionality I need to manage my studio."

Andy Plant

All About Me Fitness
"I've been using Gymcatch since I started my business 2 years ago. As my business has grown, so has Gymcatch. Really easy to use and support has been great. I wouldn't use any other booking system now. There are suitable options for my clients to book whether it's classes, workshops or retreats so it blends perfectly with my type of business."

Clare Shillinglaw

Pilates And Yoga For All
"Gymcatch is simple to use and includes the ability to offer clients different payment options. It is easy to access on desktop, phone and tablet and makes tracking my class numbers easy. A great value product with excellent customer service."

Gina Craig

Precision Poise
"This if the first time I've tried a booking app and for me it ticks all the boxes. The app is great in itself, does pretty much everything other apps do but for a fraction of the cost. Really rate them."

Helen Griffiths

Helen GPT
"Great software and customer service. Overall experience is excellent. It allows me to book clients, keep track of clients, and which package they are on."

Isabel Gondar

Body Wellness Hub
"I love how I can run my classes on the go, and keep on top of everything from my phone. My clients already love the app too as they are able to book onto classes at any time."

Jenna Kane

Danzfusion Studios
"Great ease of use, gives me everything I need. Really useful for booking in clients, keeping in touch with them and taking payment. Customer service is great too!"

Kevin James

Synergy Fitness Training
"It's simple to use, both as the the back of house and as a client. New features constantly added give me more value for way less than other software options. Incredible value for the cost!"

Kitsie Ferguson

G.R.I.T Gym
"Enables us to easily sell our sessions online and to provide clients with an app to book through. Very easy to set up and the value for money is excellent compared to other providers. Excellent value for money!"

Lawrence Arsalides

LA Personal Training
"Fantastic software at a great price. Really easy to use for myself and my clients. Keeps the cashflow moving!"

Mikala Tolley

The Lotus Room
"I love how I can run my classes on the go, and keep on top of everything from my phone. My clients already love the app too as they are able to book onto classes at any time."

Sarah Swainsbury

Celebrity Circuits
"I wish I had found Gymcatch earlier - it has made my life so much easier! I spend less time on admin, my customers can manage their payments and bookings themselves and my classes are busier because booking is easier. I definitely recommend it for anyone running a fitness business!"

Tania Bryant

Tania Fitness