Pilates booking software for instructors and studios
Pilates booking scheduling software at unbeatable value.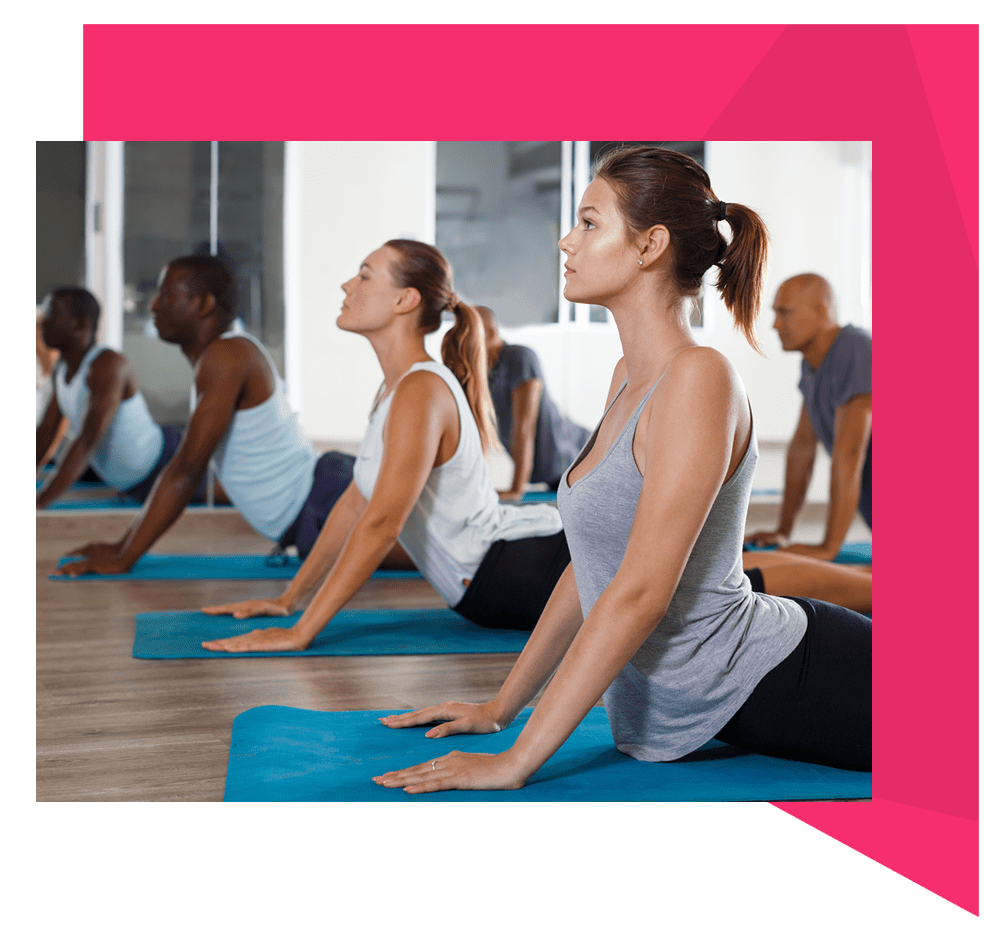 Pilates booking software to do the heavy lifting
Gymcatch Pilates management software enables Pilates instructors to conveniently and professionally manage their schedule, bookings, payments and customers. Whether you are an independent Pilates instructor or a running a Pilates studio, our Pilates booking software is designed specifically to make life easy for you and your clients.
Our courses, or blocks, feature is specifically designed for the Pilates sector and enables block booking, swaps and more. Whatever your business model, we'll have a payment and booking structure to suit your needs.
MORE ON BOOKING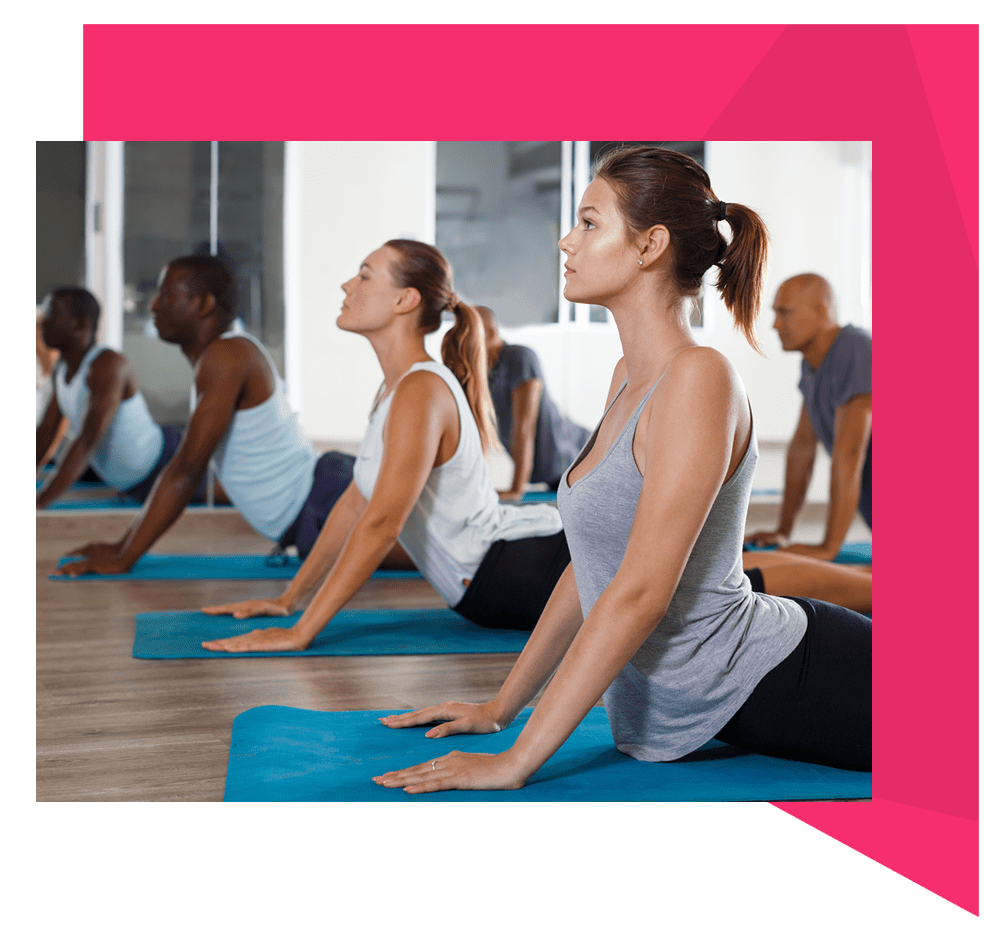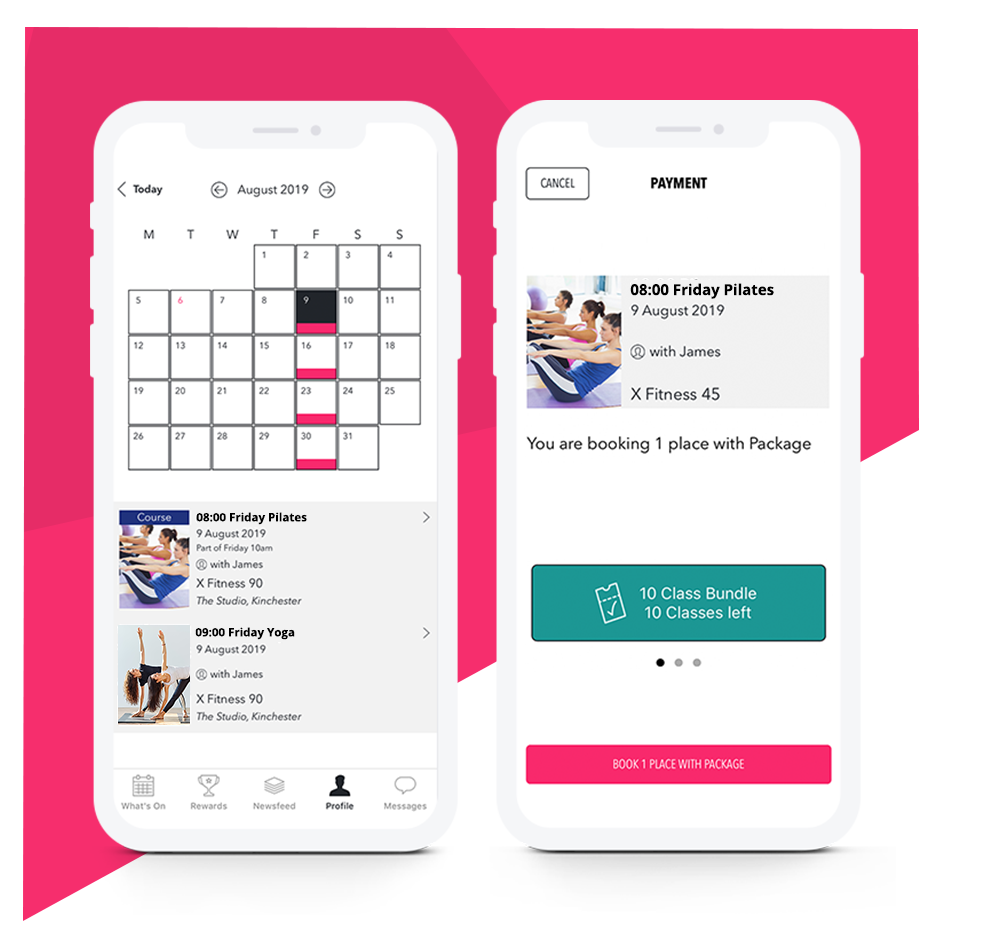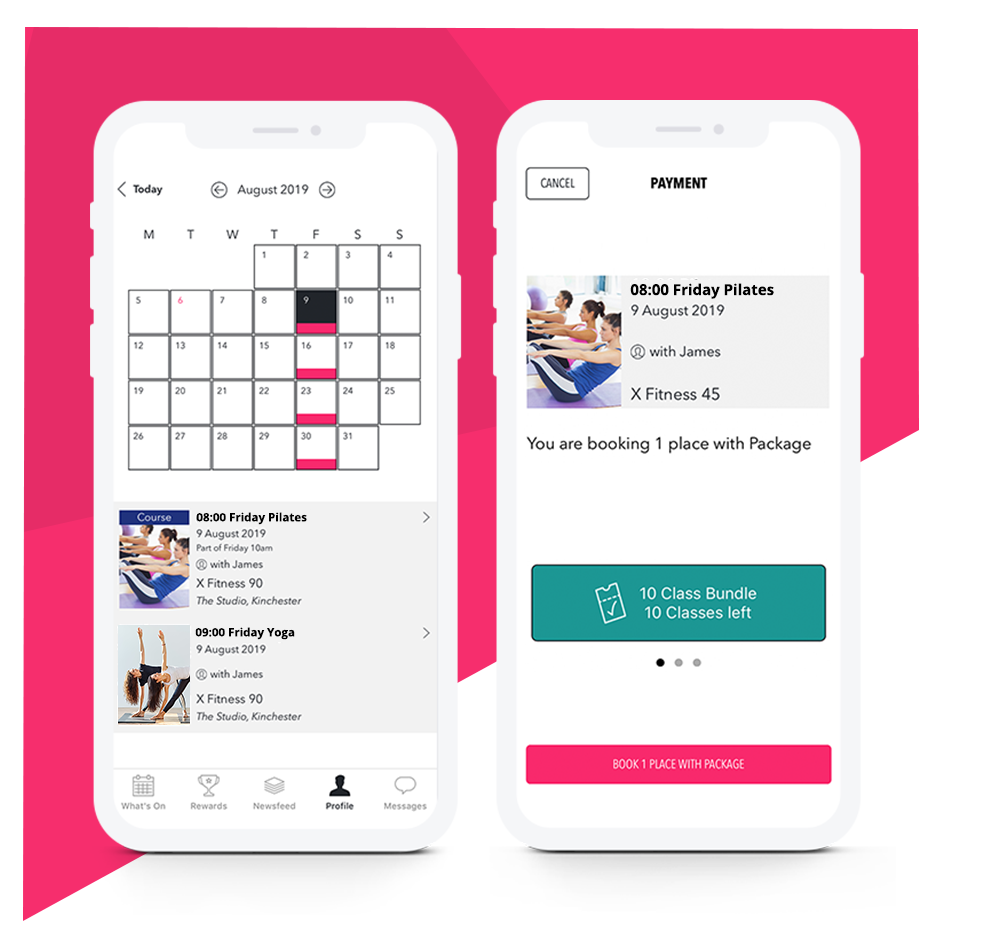 Pilates scheduling software to save time and maximise revenue
Pilates management software should be available to all businesses, whether an independent instructor, a studio or chain of studios. That means providing all the tools that you need from a Pilates studio booking system but at a price that is also affordable for all independent instructors.
We believe that great software should be affordable for every fitness business. We don't scale costs with usage, after the free trial period businesses are billed on a rolling, month-to-month basis with a simple pricing package where you pay for the base plan and any then any bolt on features that you need. You can also make Gymcatch even more affordable by utilising the free months that you can earn through our peer-to-peer referral scheme which can make the very best value in the sector even better value.
Scheduling, reminders, automated notifications all help maximise attendance and flexible booking and payment options provide easy-to-use and intuitive booking apps. Less time spent on admin, more time spent making a difference in people's lives.
MORE ON SCHEDULING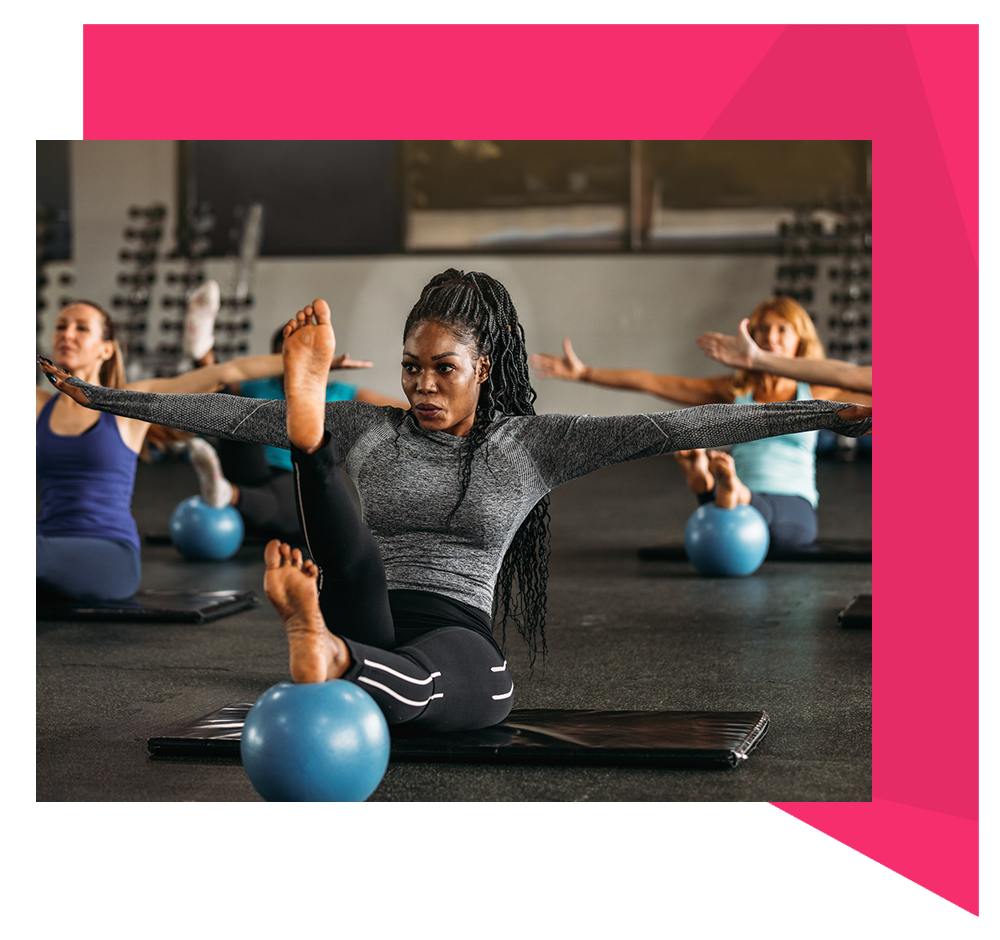 Pilates studio booking software for every size of business
With unlimited clients, team members and bookings, Gymcatch is a fixed price solution that gives you pricing certainty and that can grow with your needs.
With fully customisable team permissions our software features mean you can always ensure that any staff or contractors have the permissions that you want and in iOS/Android app features ensure on-the-go functionality is always available.
As well as making life as efficient as possible for you and your team, our Pilates studio booking software is designed to make life easy for your customers. iOS, Android Apps and embeddable, customisable, website apps make finding your schedule, booking and paying as easy as and intuitive as possible.
MORE ON STUDIOS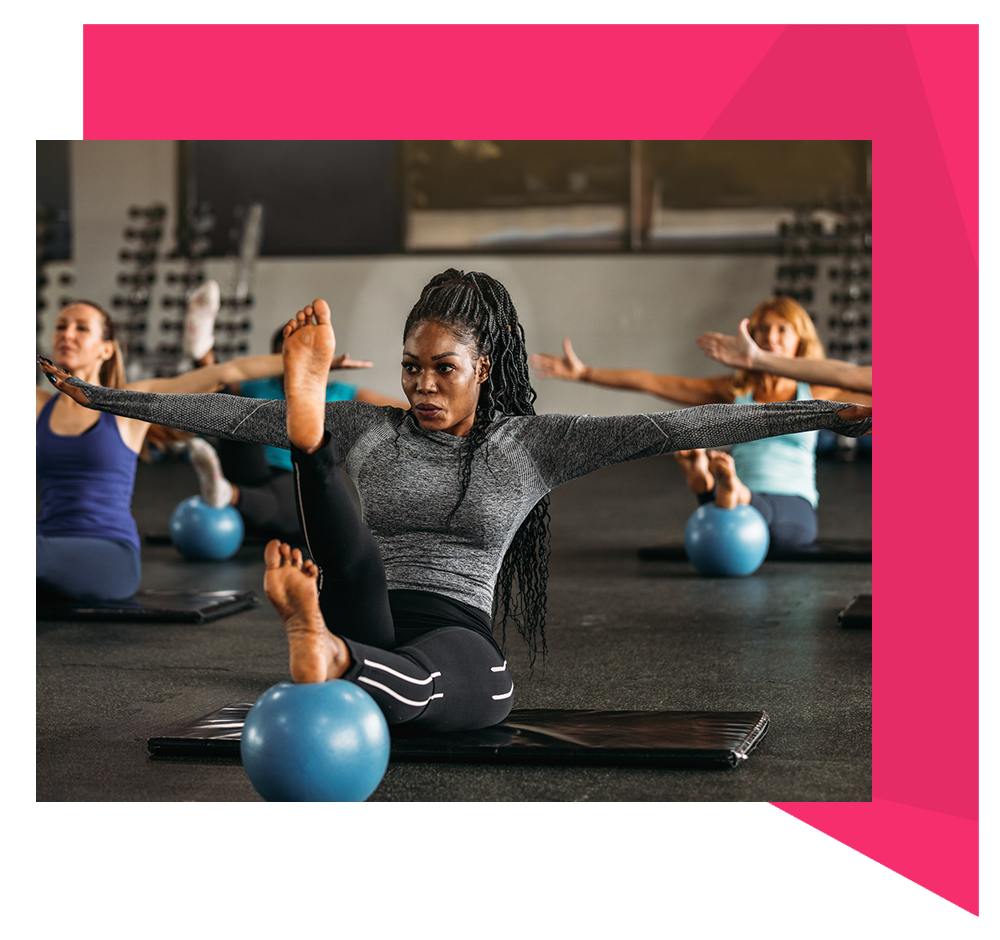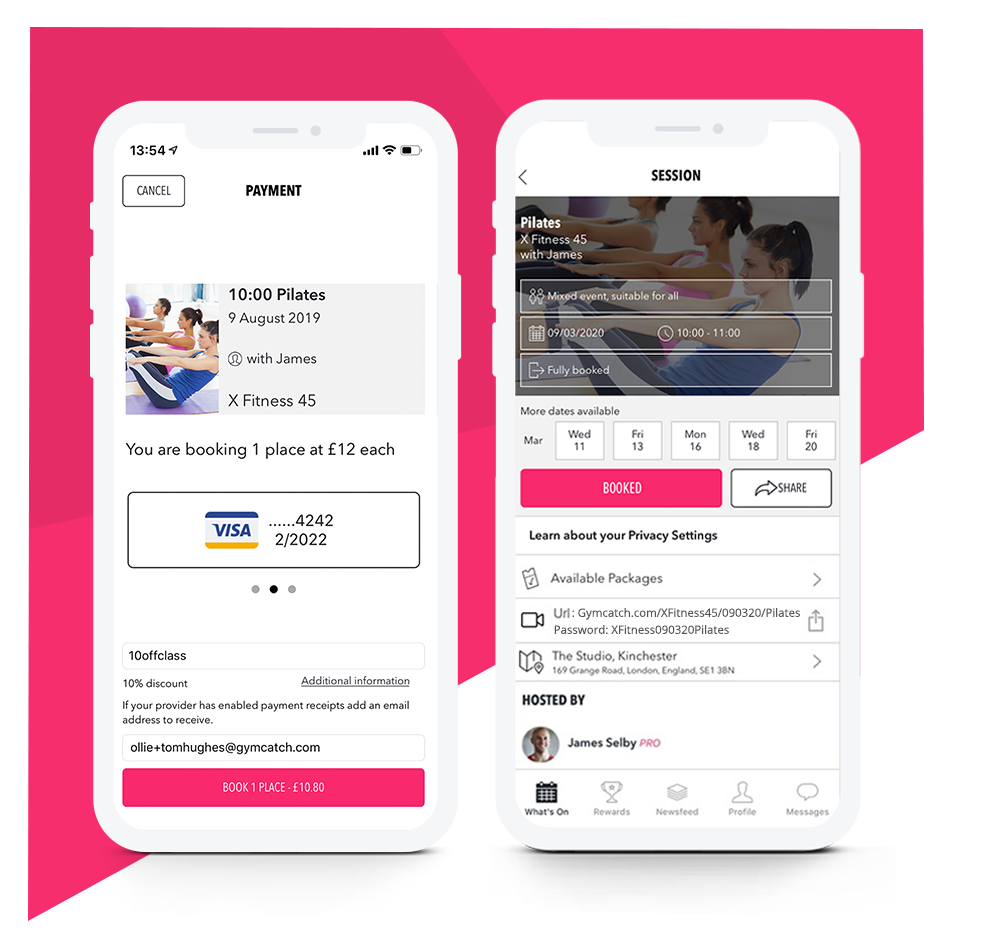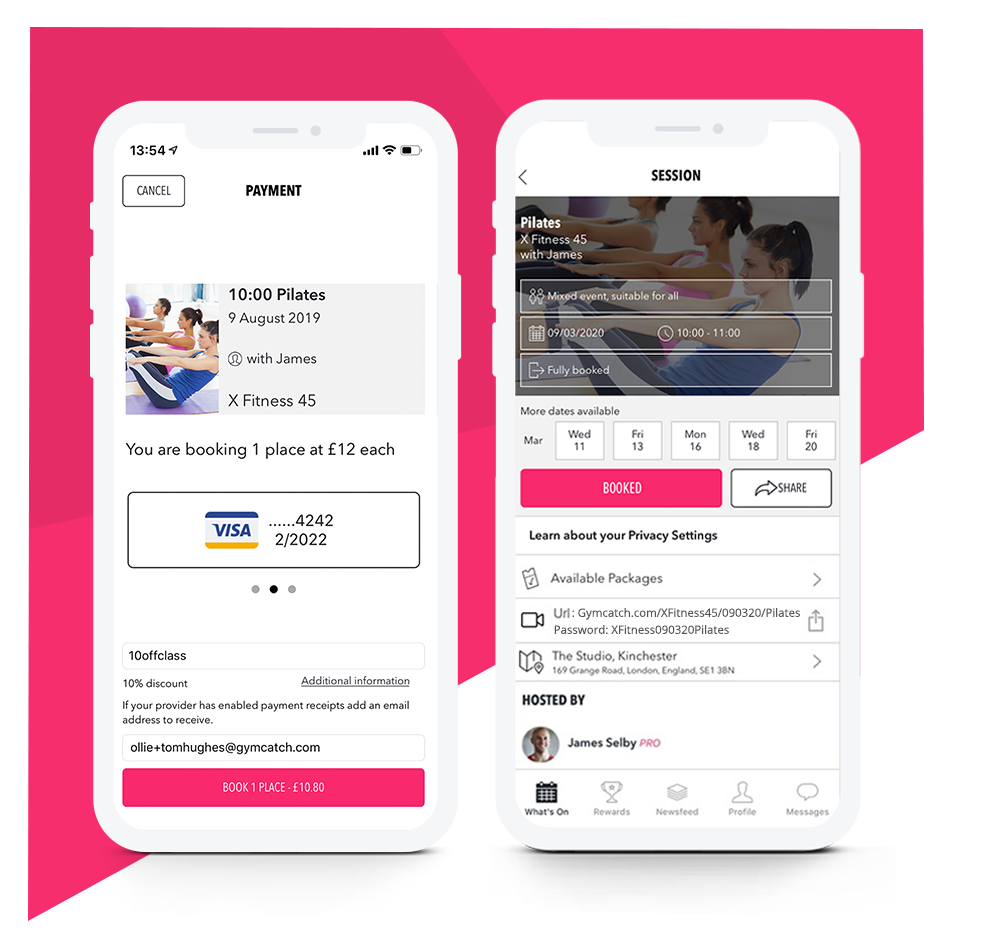 Livestream and on demand video made easy
Simple and easy to use technology has made it possible for businesses of any size to offer clients video content. Providing online services gives clients greater convenience and dance businesses with flexibility and growth opportunities. With Gymcatch you can share and manage links for livestream or on-demand content. Integrate with Zoom to auto-generate, share and update meetings in one place.
MORE ON VIRTUAL
Our pilates booking software makes your business more efficient
COMPLETE DIGITAL OFFERING
A digital presence for you, your team, customers and prospects for in-person, livestream and on demand sessions across the web, iOS and Android. Manage your customer relationships anywhere and ensure you always have the information you need by setting required contact and waiver information.
PAYMENTS & BILLING
Receive payments direct through Stripe. Automate branded receipts. Optionally offer 'pay on the door' selection for cash buyers and link to your accounting software.
DROP-INS & MULTI-BUY
Set different drop-in ticket prices and enable customers to multi-buy for friends and family. Includes all the features you need to maximise revenue and offer promotions with wait lists, cancellation policy with auto-refund and discount codes all included.
PACKAGES & COURSES
Take card payment for pay as you go clients, create passes, bundles, memberships and free trial options that can be purchased and tracked, all with customisable terms and conditions. And for courses our features allow your clients to sign up for a course in one simple transaction block booking with the option to open up sessions for drop-ins and swaps.
WEBSITE & FACEBOOK
Link from anywhere to your Gymcatch booking page or embed the booking process directly into your existing website.
ANALYTICS & EXPORTS
Run custom booking and purchase, attendance, instructor and pricing reports across your business. Easily export reports, customer information and registration information to .csv files.
"I wish I had found Gymcatch earlier - it has made my life so much easier! I spend less time on admin, my customers can manage their payments and bookings themselves and my classes are busier because booking is easier. I definitely recommend it for anyone running a fitness business!"

Tania Bryant

Tania Fitness
"Gymcatch is simple to use and includes the ability to offer clients different payment options. It is easy to access on desktop, phone and tablet and makes tracking my class numbers easy. A great value product with excellent customer service."

Gina Craig

Precision Poise
"I've been using Gymcatch since I started my business 2 years ago. As my business has grown, so has Gymcatch. Really easy to use and support has been great. I wouldn't use any other booking system now. There are suitable options for my clients to book whether it's classes, workshops or retreats so it blends perfectly with my type of business."

Clare Shillinglaw

Pilates and Yoga For All
Easy, affordable system Wonderful! Superb support and totally reliable app ☺This software makes booking classes, and courses so easy. I love the ability it has to offer online classes too and the efficient way it sends out links to these sessions. Highly recommend it's a fraction of the price of other apps ☹When I first signed up there was no membership feature, but that has since been added. Excellent service
First class app and customer service ☺The app is easy to install and use. Setting up classes and appointments as well as the ability to sell bundles of classes is brilliant. All my clients live it for its ease of use. There are so many functions to enable anyone in the fitness industry to manage class bookings and memberships. It is extremely good value for money and the bolt on features mean that it is affordable for literally ANYONE and allows you to build features as you build your business. The customer service is second to none. I always felt as though I had a personal assistant if I ever had a query. Fantastic! ☹There is nothing missing. The app is continually developed to keep up with client needs.
Gymcatch is the app for me! Just great so far. Took me about half an hour to set up and I was off! There's no stopping me now! I also find it an incredibly professional way to take client bookings and makes my business look professional ☺It's so easy to use, modify and interact with. It's incredibly straight forward and the online help took us been invaluable if I've needed any questions answered. ☹Nothing! It's so easy to navigate and I've not had any issues at all!
Super easy and affordable! It's been great, super easy to understand. If you ever have a question the team on the online chat are just amazing! ☺Love the fact I have one app that stores all my clients in one database, I can message all clients who have booked into a session - advising location change, what to bring etc. I love the fact you can arrange class passes easily, create events and share them across multiple platforms ☹Nothing, everything is great and easy to use
Great booking system Great experience, really easy to you. And the customer service is great. I've spoke to Ollie a couple of time and he has been quick to respond and very friendly and helpful! ☺GymCatch is easy to use and easy to tailor to your own business. Will a range of 'add ons' you really can pick and choose what features suit your business best. You can add loads of info about your business and add your own photos. And really easy to link it to Facebook for bookings or imbed into your website so you can send customers straight to your booking page. Really easy payment for customers and nice feature of issues automatic refunds (within the boundaries that are set by you). Can definitely recommend!! ☹I haven't found any issues with GymCatch
Great start up booking system Gymcatch helped me streamline my class booking process and taking payments especially during the restrictions where it reduced contact with cash and ensured I had all the information I required for track and trace. ☺It was really easy to set up and helped me cut down on my admin. ☹Lots of features that I was not sure how to use initially or were not relevant to me at the time.
Easy to use and great tech support The support I've received from the Gymcatch team as I've had to change and adapt my business has been second to none. They've assisted with simple questions as well as integrating with my website. Helpful and quick to respond. ☺I love the ease of this software; it's simple to create new packages and bundles and link to my zoom account for online sessions. ☹None! It's been perfect for my growing business. Such great value for money!
Really Recommend Gymcatch Super! Very impressed so far and great to see Gymcatch keep developing the software so it gets even better. Really great value for money too ☺The customer service at gymcatch is super -it feels really personal and so easy to get help if you are unsure of anything. Lots of youtube videos explaining how to set things up. Easily inegrted into my website, although lots of my clients use the app as they find it really easy and like the way it synchs up with their phone/tablet calendar. ☹It would be great if there was an opportunity to build a health questionaire into the app. But easy get round with uploading a new starter form that clients can easily download, complete and return to me.
GymCatch took the stress out of bookings By taking care of bookings and PARQ's - I can take care of actually delivering my classes and taking care of my clients. Embedding the app into our website was made extremely easy and functional almost immediately. ☺Introducing GymCatch took the stress of booking away along with chasing clients for payments and commitment to attend. ☹Clients contacting me to help them to use the app - perhaps make it easier for the client to as for GymCatch support.
Nice Little Find I find it easy to use and I only use the basics. My clients seem happy with it too. ☺It saves me so much time and helps me to run my business efficiently. The app is easy to use ☹Can't really fault it. When it freezes I assume it's because of poor connection and nothing to do with the app.