A health and sports club booking system for every sized business
Professional booking and customer administration software for clubs at unbeatable value.
1 month free. No credit card required. Cancel anytime.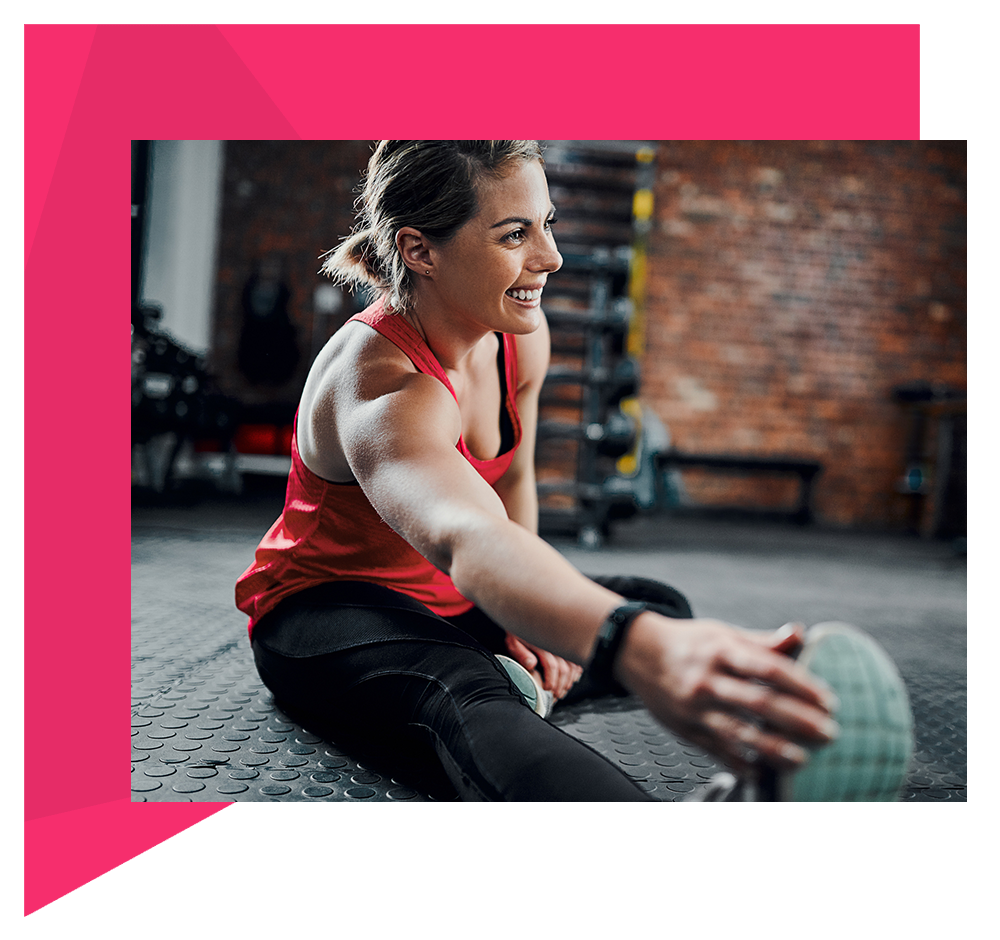 A powerful, flexible and efficient health and sports club management system
Need a one-stop solution for you, your employees and your clients? Then Gymcatch is for you. Professionally manage your schedule, bookings, payments and customers with Gymcatch's easy-to-use fitness and sports club management software. Our user-friendly health and sports club management software is designed to maximise efficiency and increase revenue. 
Our software makes payments flexible and easy: take in-person and online payments and give your clients a wide choice of passes, bundles and memberships options. All payments can be purchased and tracked through the app and online and business owners can customise clients' terms and conditions wherever necessary. If your club offers courses then our booking system allows customers to sign up and pay for a course in one transaction block booking with the additional flexibility to open up sessions for drop-ins and swaps.
More on memberships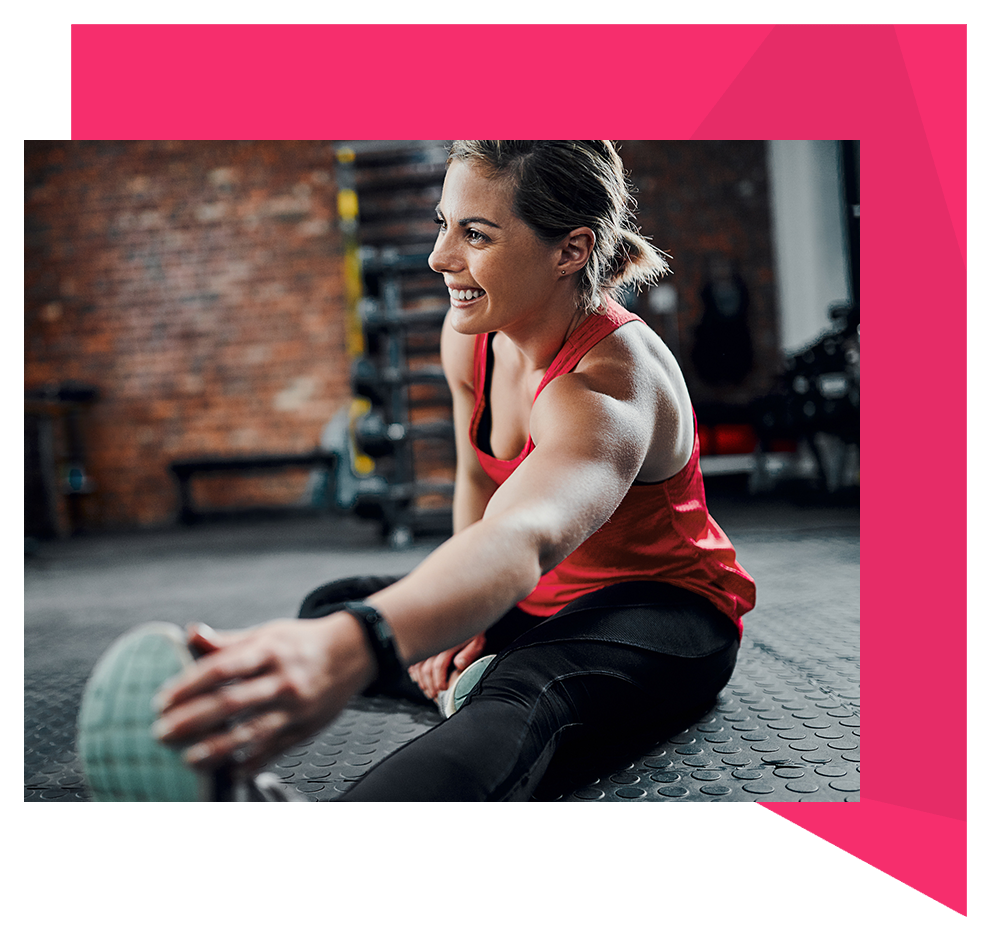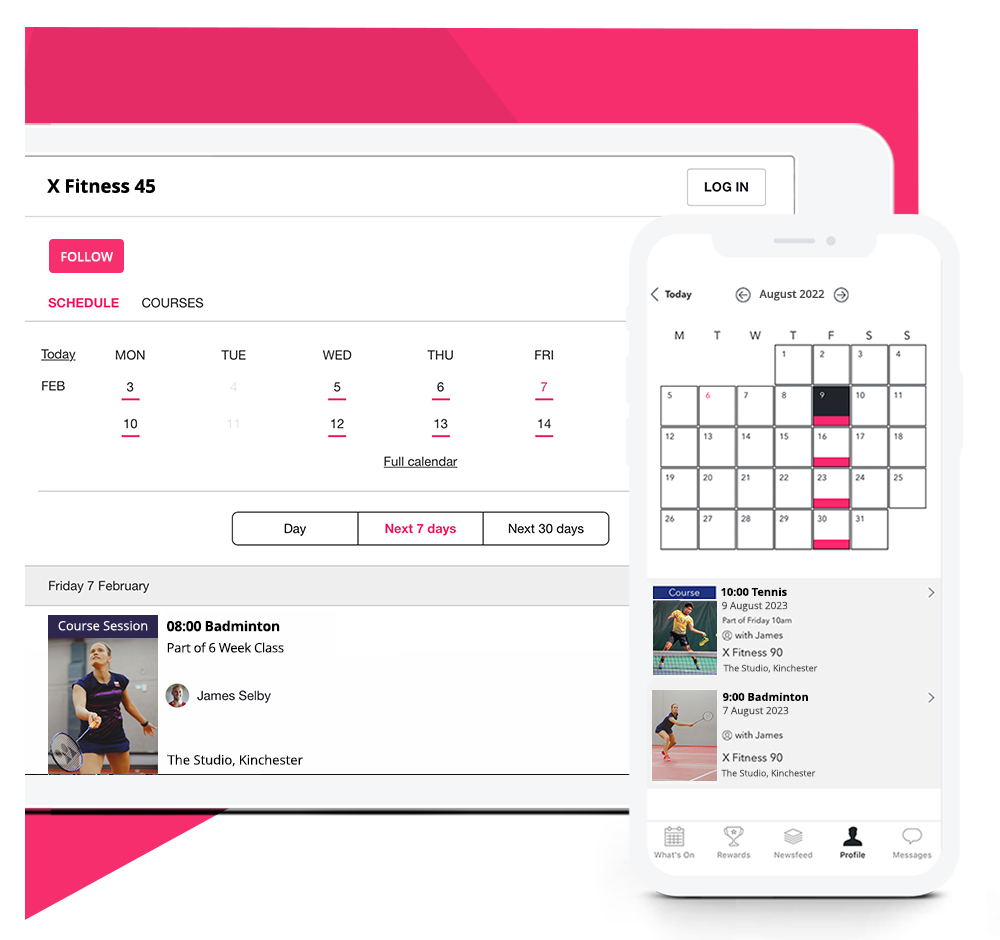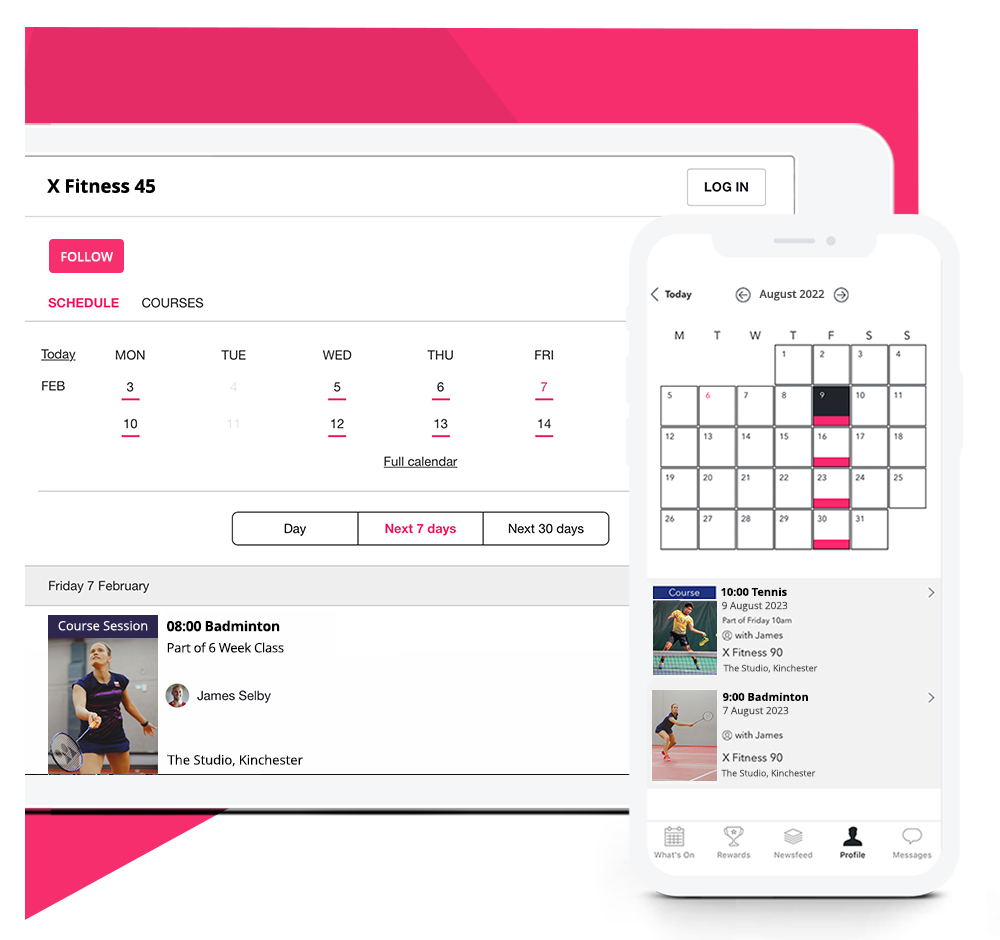 Offer clients a great booking experience with our health and sports club scheduling software
Make bookings and payments as easy and flexible for your customers as possible with our app. Whether your clients prefer to book on iOS, or Android, via our web app or through your website, Gymcatch offers a seamless and secure online booking experience.
Maximise attendance by taking advantage of our waitlist and reminder functions. Enable clients to easily book on behalf of designated kids, friends, family and dependents.
More on scheduling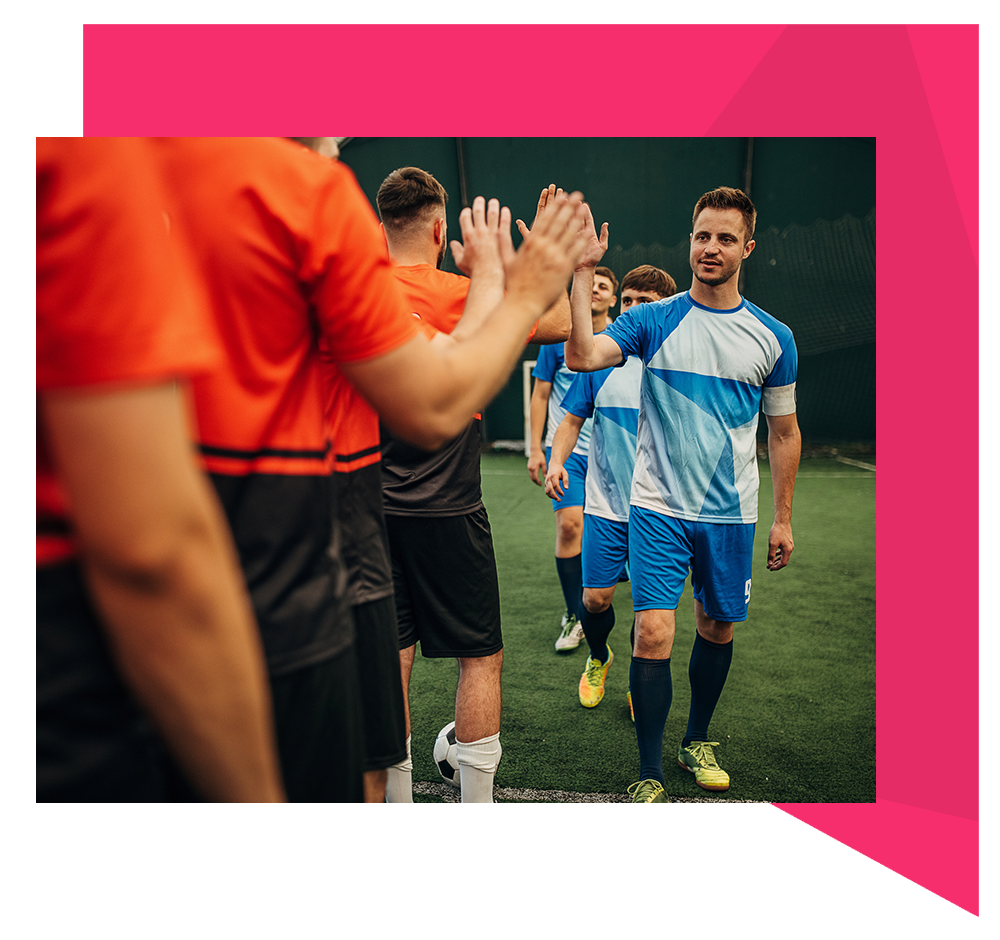 We help your health or sports club to maximise revenue as you grow
Add unlimited team members to the system at no extra charge. Adding cover staff or temporary instructors couldn't be simpler.
Our health and sports club booking system advertises and easily allows clients to book one-on-one sessions, group classes and for kids / dependents directly from your website, or from our mobile booking app.
Gymcatch has a comprehensive feature set to help health and sports club. Our booking softwares includes the ability to set book open/close periods, cancellation policies, auto-credit backs and to collect required contact information, waivers and more.
More on booking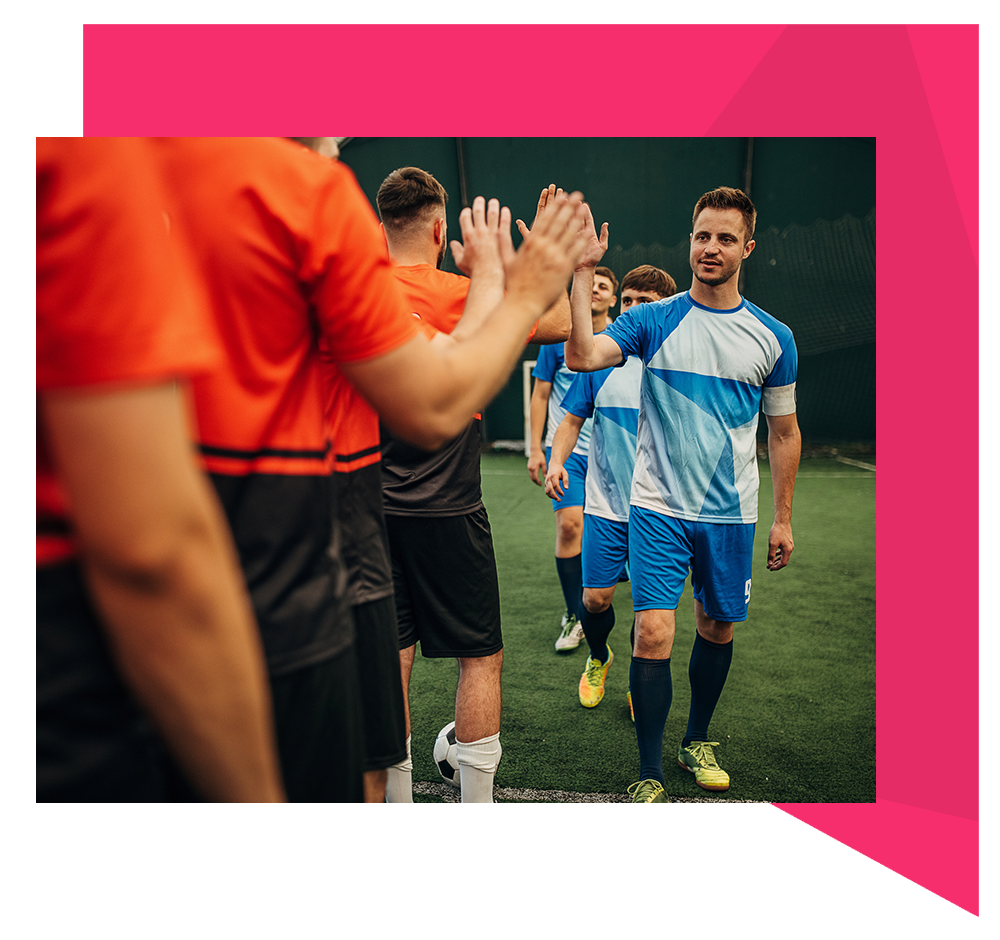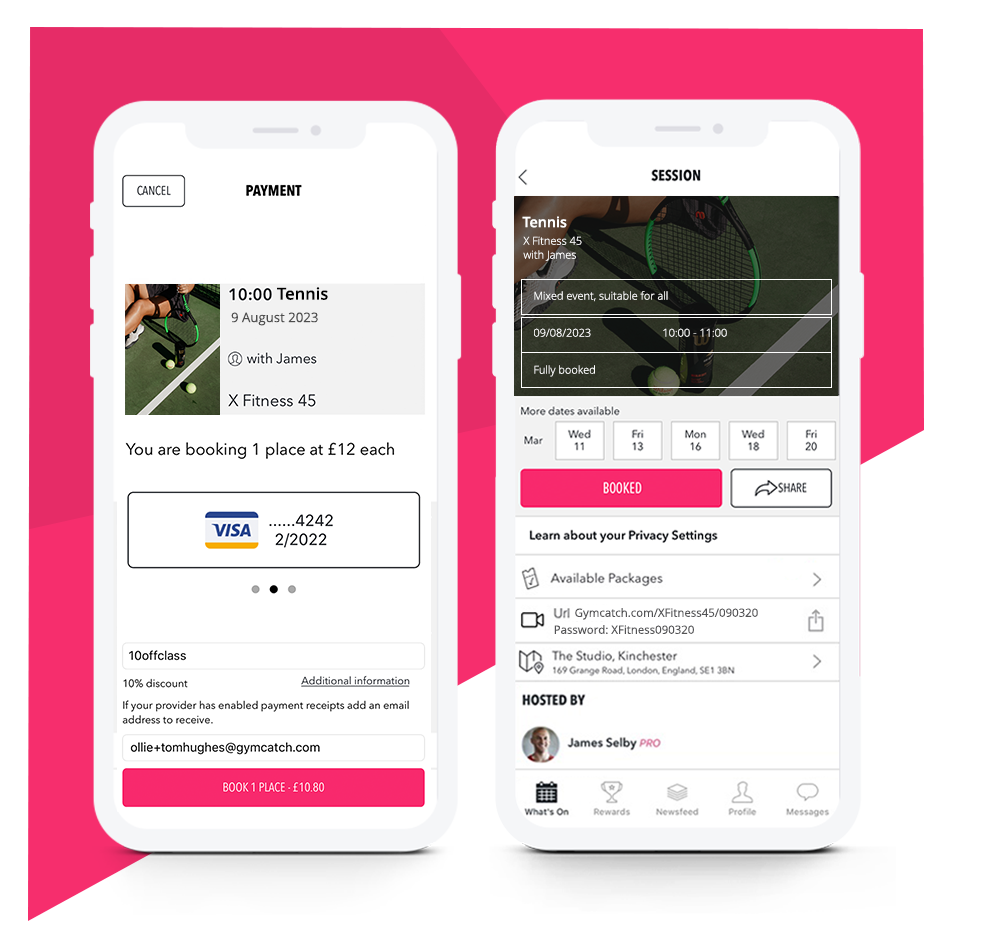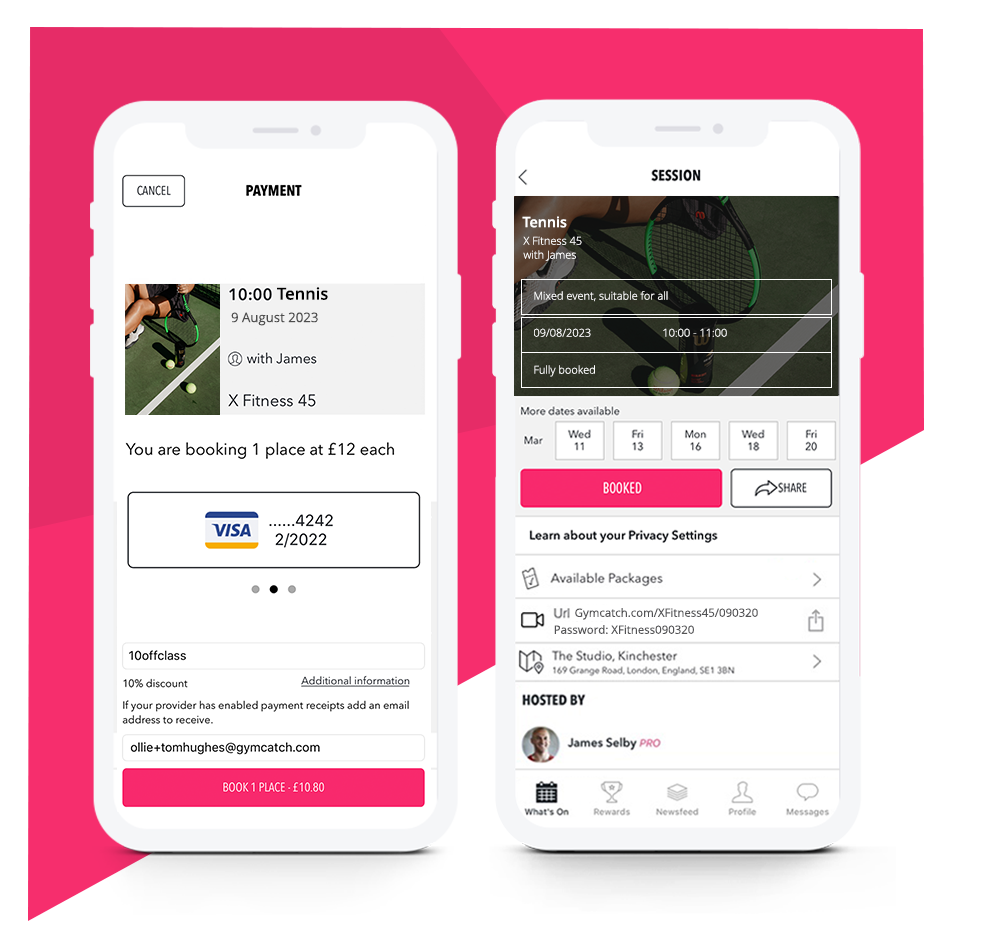 Payment methods suited to the health and sports club sector
Existing online health, and sports club booking systems can be expensive and usually involve lengthy contracts and scaling up with the number of members, customers or bookers. Gymcatch is a monthly subscription service offering great pricing and the knowledge that the platform will grow with your needs (whilst the fee stays the same).
With Gymcatch, you can be sure that pay-as-you-go, bundles, passes, courses and membership management payments are handled smoothly, reliably and securely. All payments go directly to your account, and we don't take a cut for ourselves.
Regardless of whether you're using an alternative sports or health club management solution, a sports or health club management tool, a club management app, or even a paper-based booking system, switching over to Gymcatch is simple and there's all the support you need as you get started.
More on payments
Our booking and management software makes your sports or health club business more efficient
Complete digital offering
An online presence for you, your employees, customers and potential clients for live, video and on-demand sessions across multiple platforms. You can manage your customer relationship from any device at any time by setting the required contact and waiver information.
Payments and billing
You can receive payments directly through Stripe. Create automated branded receipts for your business. If your clients prefer to pay in cash then our software makes it easy to deposit the money straight into your accounting software.
Drop-ins and multi-buy
Create different ticket price options and allow customers to buy multiple tickets at once for their family and/or friend groups. Includes all the tools you need to maximize revenue and offers promotions with wait lists, cancellations policies with automatic refunds and discount codes all included.
Packages and courses
Take card payment for pay-as-you-go clients, create passes, bundles, memberships and free trial options that can be purchased and tracked, all with customisable terms and conditions. And for courses our features allow your clients to sign up for a course in one simple transaction block booking with the option to open up sessions for drop-ins and swaps.
Website and Facebook
Link from anywhere to your Gymcatch booking page or embed the booking process directly into your existing website.
Analytics and exports
Run custom booking and purchase, attendance, instructor and pricing reports across your business. Easily export reports, customer information and registration information to .csv files.
Gymcatch is powered by referrals
1000s of business owners, sharing a passion for fitness, reducing admin and increasing revenue.
Amazing service ☺This software allowed me to run my virtual online fitness business without having any expertise or ability in website management or creation. Their support was fantastic, the software was utterly reliable and their updates were incredibly useful. ☹I loved this software. No complaints from me
Great inexpensive booking system for a small business Easy. Great service from the team. Always coming back promptly to a question or query. ☺It's easy to use for both the business and the customer and it's affordable. ☹The inability to communicate with customers via text
Couldn't live without gymcatch now !!! I don't think I could work without gymcatch now ! My business is small but it has taken the worry out of wether people will attend or not . The more classes I do the more necessary gymcatch is . ☺It's easy for everyone to use . I have had very few issues and any queries I've had have been answered immediately and I am old and not great with software !! ☹Slight niggle . I have to log on through business portal every time ! Unless I've got that wrong ???
Gymcatch All good and the customer service is excellent offering a speedy response to any queries. ☺Love everything about this software, massively reducing class admin time. ☹There isn't anything I dislike about this product
Business owner Fantastic. Customer service is brilliant The team are always quick to respond and very helpful ☺Ease of scheduling all my sessions, live and ondemand and also so my clients could book sessions easily and cancel. Took a lot of admin time out of my day. Links to zoom and Vimeo ☹Hard to set up at first but [SENSITIVE CONTENT] helped loads. Once you know what you're doing it's really simple and easy to use.
Gymcatch I wouldn't be without it now. I set up my Gymcatch business account during the Pandemic and it met my needs perfectly. Despite now being back to "normality" I wouldn't revert back to cash payments and paperwork. The features it provides make my life much easier ☺Easy to use system which is perfect for my class needs. Booking is simple, managing class size and detail is straightforward and applications for communicating with customers are easy to use ☹Some of the essential features are additional bolt ons. It would be nice if these were included, but I understand why they're not. From an admin point of view I find it easier to use from the website on my laptop rather than through the app on my phone. The reverse is true from a user-participant perspective.
Fantastic Product for Bookings, Scheduling and Payments GymCatch is great for both online and in-person businesses providing services where clients want to pay online and not have to carry their wallets with them. ☺The product was easy to integrate with my Pilates business website, the steps on how to do so we very straight-forward. Being able to see who was booked in to class, get clients to complete health forms before booking and take payments integrated with stripe made this app a great admin tool. Being able to add or remove refunds and give discount codes to clients is also a great useful feature. ☹None..... .....................
How Gymcatch makes booking simple, seamless, and sweet! ☺Gymcatch provided more options than I ever imagined. They made it simple with bolt-ons to select and deselect certain features that may or may not work from month to month. As an early startup, the customer service team was very patient and understanding of our complexities. As the primary administrator, I enjoyed the ease of data collection that Gymcatch provides as a built-in feature. It's very customizable and integrates seamlessly with our website. ☹I didn't have many issues with the software. The training videos are very straightforward whenever I got stuck.
Simple & Effective Software The experience so far has been great. The support team is always willing to go above & beyond to assist in any way they can. Added bonus is there's no pressure to commit; no pushy sales & constant calls. ☺The value for money is great! The software is simple enough to set up even if you have no idea how the backend of programs work & the support staff are always ready & happy to help you through any difficulties. ☹It would be great if there was a way to membership start dates so that clients could commit to their membership in advance. This would be super helpful for new businesses so they could onboard & lock-in members before their open date. It would also be great if memberships could be renewed on a specified rolling basis - 3, 6, 12 months etc. With the option to renew automatically if desired. However there are plenty of ok ways to get around these issues.
From Mindbody to GymCatch They have saved me a fortune and their customer service is always there. Perfect small business or private studio or PT app. ☺The effectiveness for the price is incredible. Does everything I need my business to do. Really happy I made the switch. ☹They are constantly evolving and adapting to the point I can't really fault them at this stage. We all want the stars, but in general they keep it coming. Last update and features has elevated my Members' experience.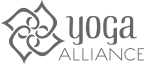 Professional booking and customer management software at unbeatable value
Get started
1 month free. No credit card required. Cancel anytime.