Take your fitness classes online with Gymcatch's Zoom integration
To help with delivering your classes online, we've launched a new feature: a full integration with Zoom. Zoom is a meetings app for video conferencing, and it's great for online classes. We're here to be your online class booking system for Zoom.
Here's how it works:
What you need to integrate with Zoom
Before you can integrate you'll need a Zoom account. There are Basic, Pro or Business plans available. We expect most will be well-served by the Pro plan.
Zoom only allows Hosts to run one meeting at a set time, so if you run multiple virtual classes at the same time you'll need more than one Zoom account, one for each instructor running the same timed session.
Once you've at least one Zoom account and a Gymcatch Business Account, you're ready to integrate.
Integrating your Zoom account(s) is super simple. We've even provided a short demo video of the feature and how to integrate here, but the step-by-step process is:
Navigate to the BUSINESS ACCOUNT>INTEGRATIONS page.
Click CONNECT ZOOM ACCOUNT and then add your Zoom credentials to connect your Zoom account.
You will then be taken back into Gymcatch where you will see the updated INTEGRATIONS page.
You're then ready to add your Zoom meetings to new or existing sessions.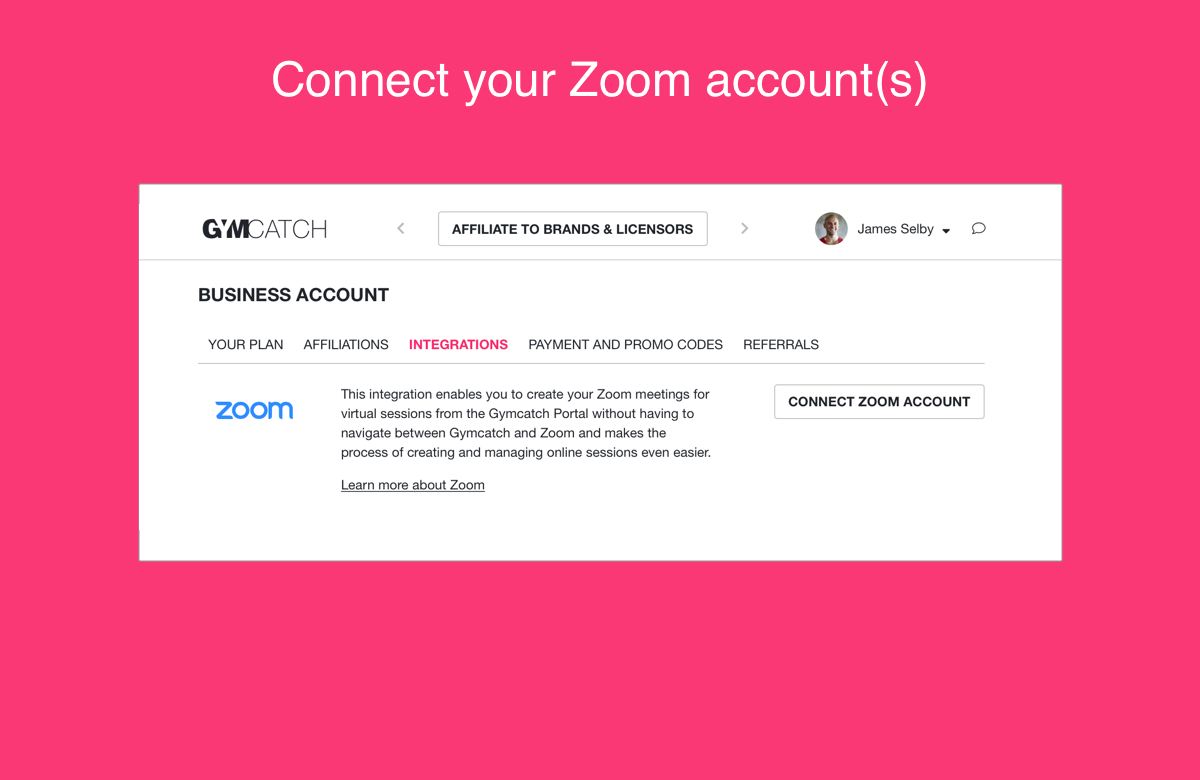 Once you've integrated with Zoom your standard session create or update form will have the Zoom meeting create and update settings displayed in the 'Available online' section – so it's just a case of completing those fields and updating your session or recurring series.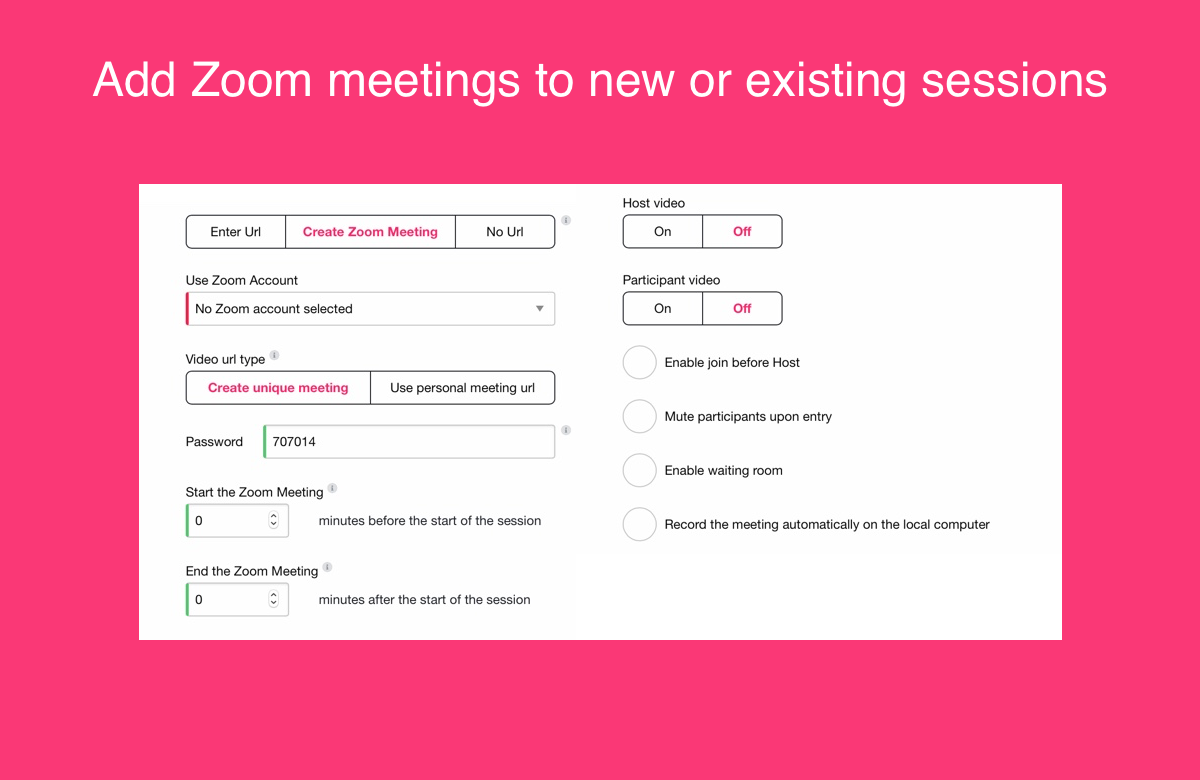 Customers book / pay, receive information
Once you've added your Zoom meetings to your sessions you're all set. Your customers will receive the key information when they book / pay in any of the Gymcatch apps.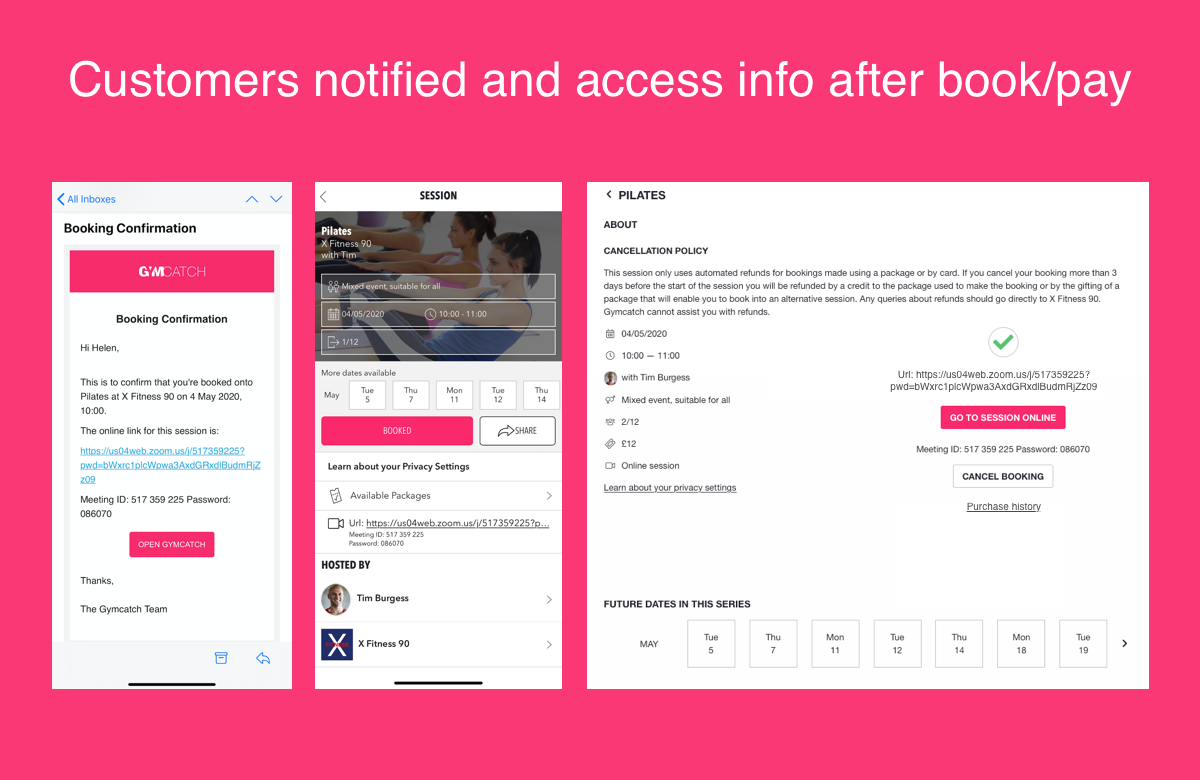 If you ever need to disconnect your Zoom account(s), this can be done from the BUSINESS ACCOUNT>INTEGRATIONS page, or from within your Zoom account via:
Log in to your Zoom account and navigate to the Zoom App Marketplace.
Click Manage>Installed Apps or search for the Gymcatch app.
Click the Gymcatch app.
Clcik Uninstall.
Should you need any help in getting up and running with the integration you can use the live chat support (bottom right of screen) that is staffed 9am-5pm UK time, or our support email address, with full-time staff ready to answer any queries that arise. We commit to replying to emails or offline tickets within two business days of receipt but, in practice, these are generally resolved within hours. We also have a Zoom setup video available on our YouTube channel.