Pilates booking, scheduling and customer management software at unbeatable value.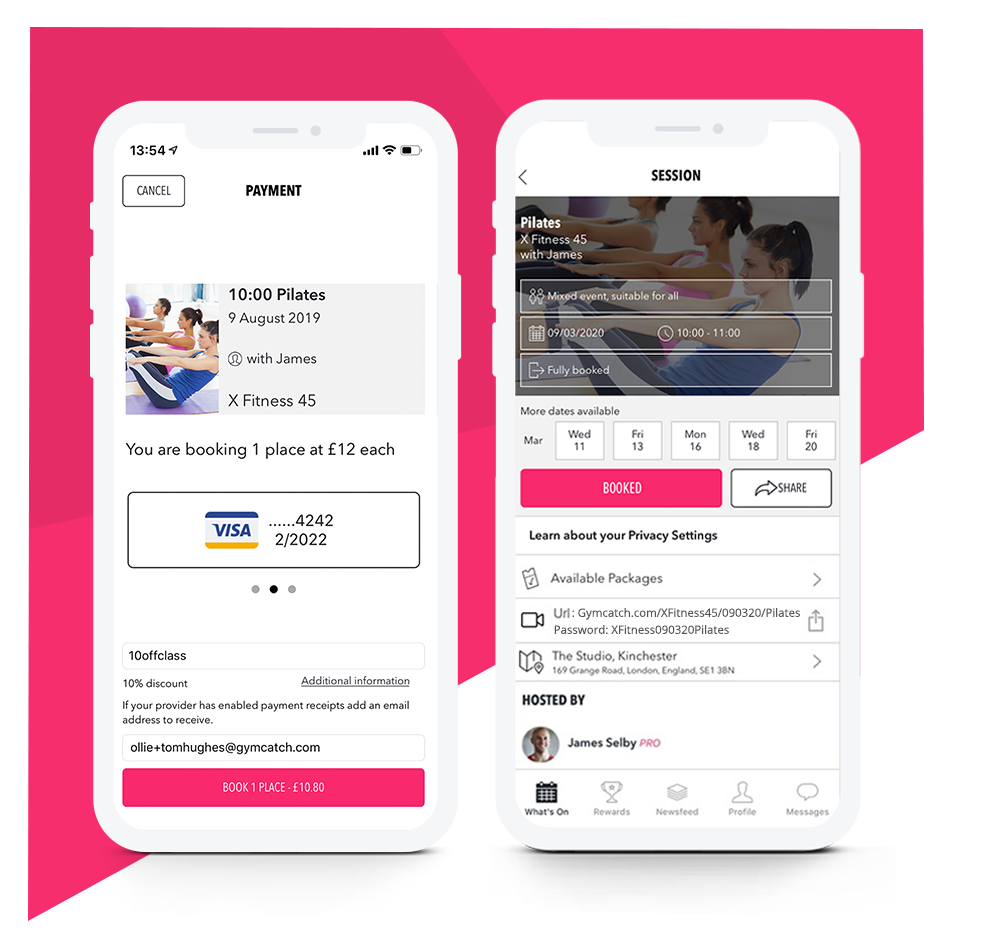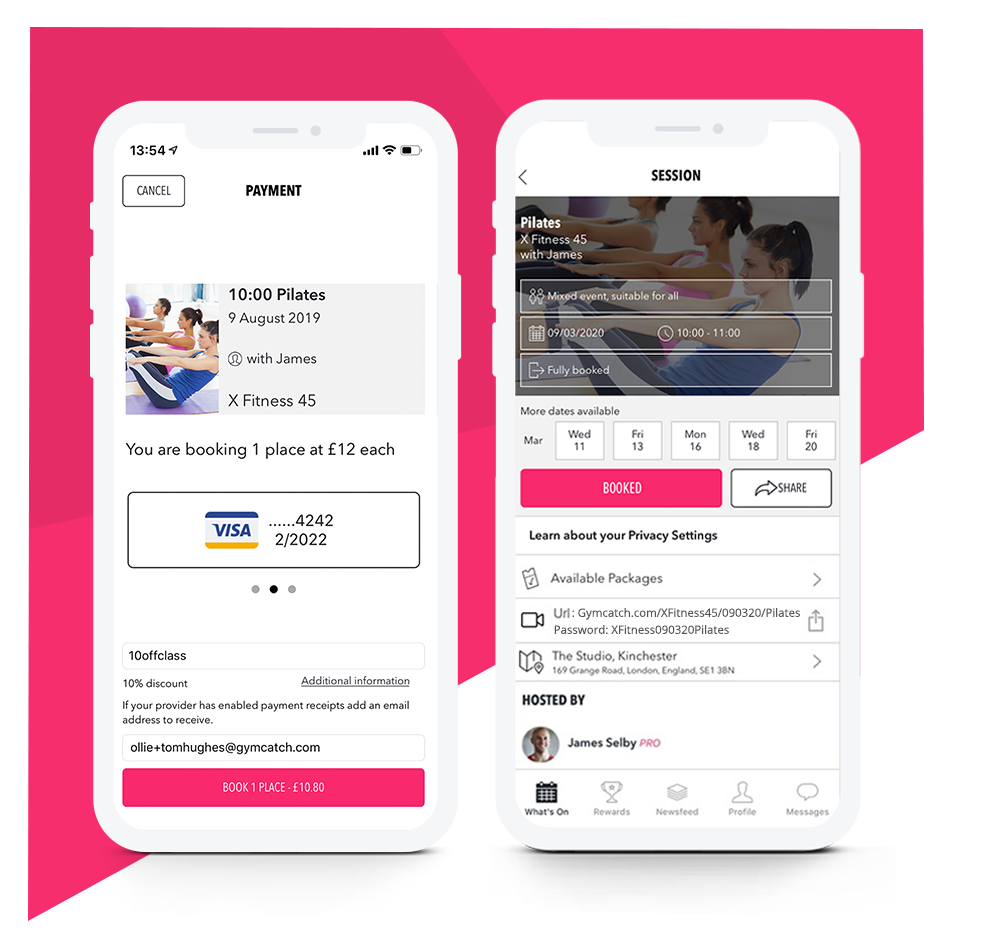 Create custom booking & payment structures
Gymcatch is stacked with specialist features specifically designed for Pilates providers.  Our mission is to give you everything you need to run your Pilates business no matter the scale of your operation.
We provide you with the flexibility to create booking and payment structures to suit you. And a simple, intuitive user experience that makes life simple and easy to use for your clients.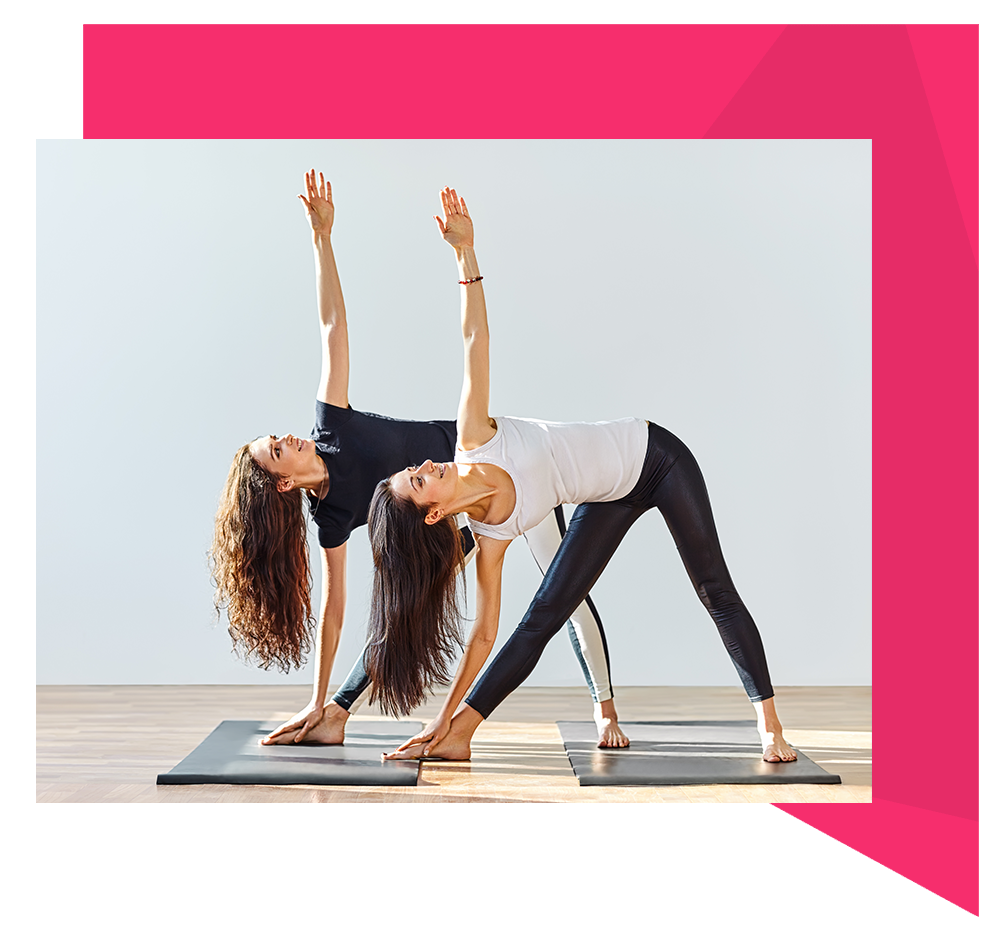 Serving the pilates community
But keeping things simple doesn't mean that we're under-powered. Here's just a sample of the features we've developed that we have implemented to serve the Pilates community.
Courses / blocks
Memberships
Bundles and passes
Automated class credit refunds
Waivers and Questionnaires
Livestream
In person
On demand
Appointments
Embed the system in your website
iOS and Android apps for your clients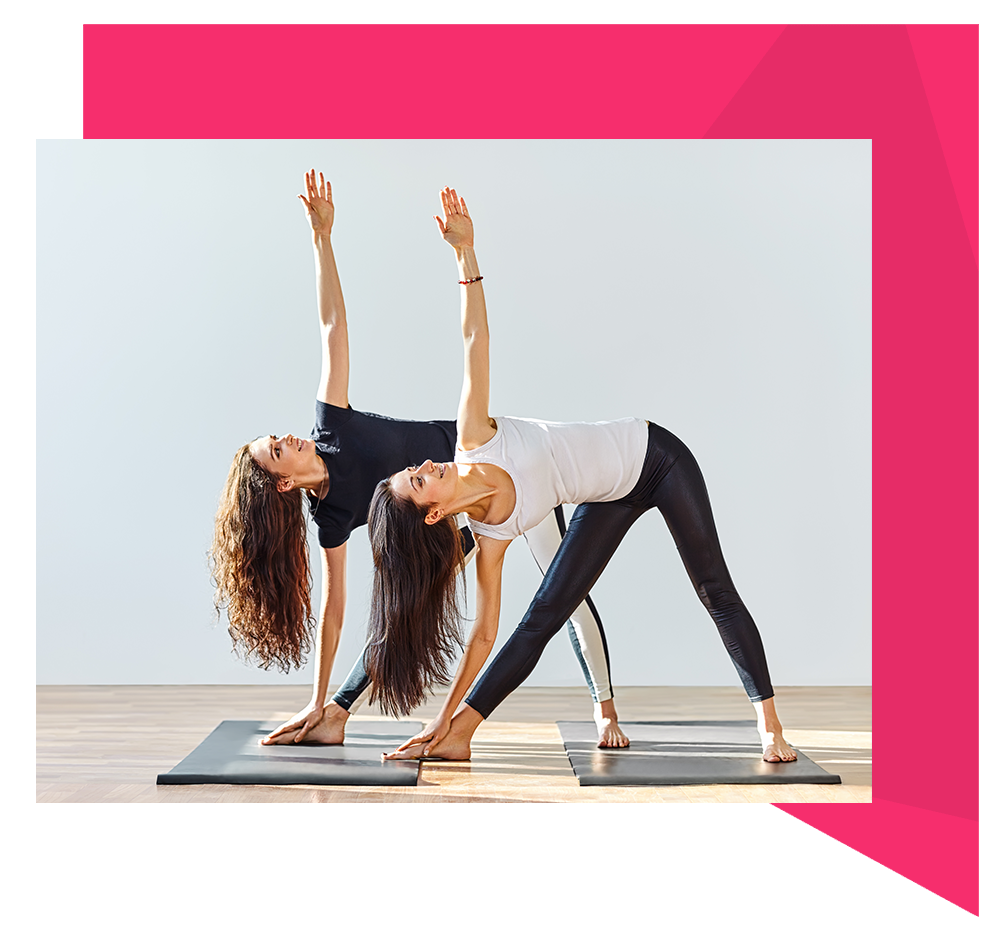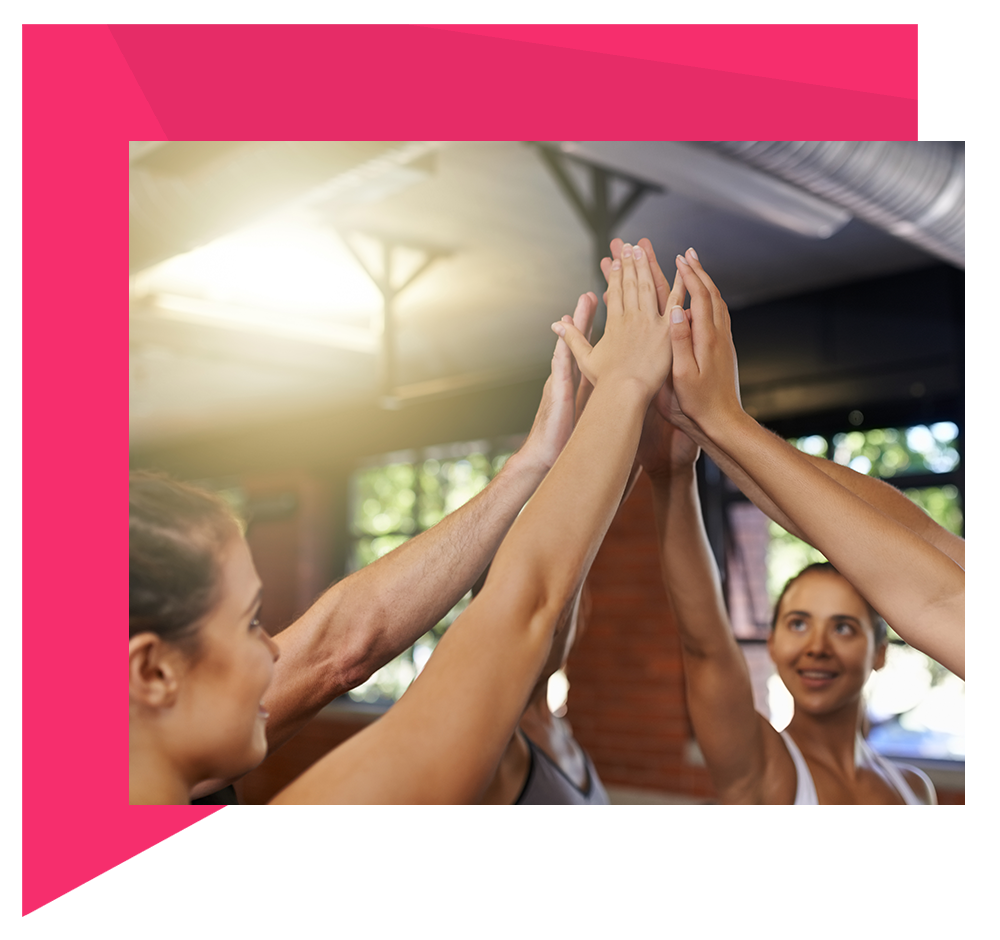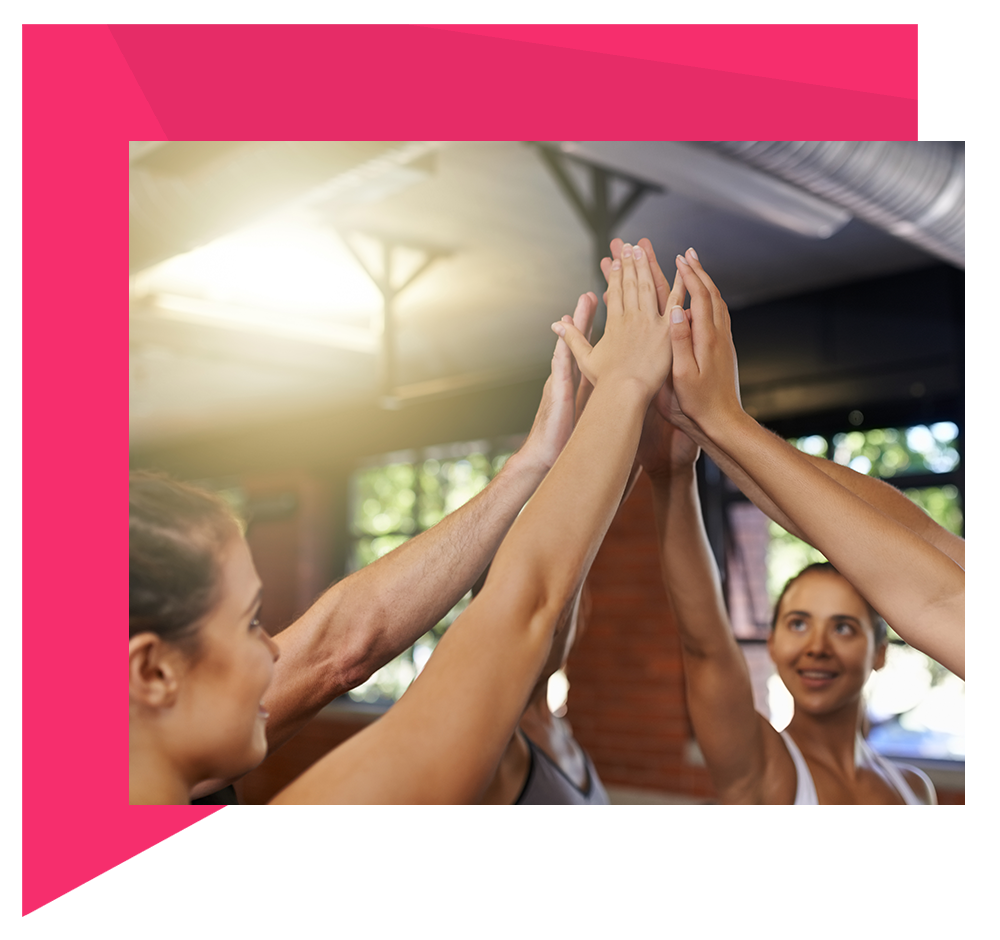 Great service at a great price
Just because we don't have the premium price tag doesn't mean you're not getting a premium product.
The average business on Gymcatch pays us $/€/£15 a month and the most you can pay is $/€/£24 a month.
There's no catch, we just like the old-fashioned idea of providing a great service at a great price.
Gymcatch is powered by referrals
1000s of business owners, sharing a passion for fitness, reducing admin and increasing revenue.
"I have been using Gymcatch for several years now and it is an invaluable asset and integral part of my business in so many ways. It is highly user friendly, not only from the business side but also for my clients of all ages who find using the app so simple to navigate.

It saves me so much time from an admin and payment perspective as it integrates easily with my accounting software. All terms and conditions are clearly visible to clients so it creates a friendly, professional distance which is great when it comes to cancellation policies etc.

Gymcatch is outstanding in its value for money and customer care, way above other online booking systems. I highly recommend Gymcatch to any fitness professional - it will change your life!

Joanne Cobbe

JPilates
"I was introduced to Gymcatch by a fellow Pilates instructor. I was looking for a booking system which needed to be user friendly for both myself and my clients, it needed it to be compatible with Zoom, and affordable! Gymcatch fit the bill perfectly.

My clients range from 30 to 75 years and after 10 years of emailing me to book their mat spaces and paying by bank transfer a number of them were resistant to the change! However after a few weeks everyone, even the real technophobes were commenting on how easy it was to use.

Using Gymcatch has reduced my admin time by at least half! Gymcatch is the perfect booking system for my evolving business, and I couldn't be without it!

Rhian Coward

Essence Garden Studio
"I first started using Gymcatch on the recommendation of a fellow Pilates teacher who was happy how everything worked. I set up my online classes a few days and although some of my clients were apprehensive at first about registering their details online, they haven't looked back. They found the whole set up effortless and in turn made it easy and straight-forward for me too.

I particularly like the fact it is linked to Zoom and in turn cuts my work in half. Refunding is simple and so is uploading any courses I may be running. I haven't had to contact customer support much at all but when I did in the early days, they were efficient and quick in answering any queries I had.

I would highly recommend and I bet I still don't use half of the brilliant things Gymcatch offer!

Angie Newson

ExploreYogaPilates
"We started using Gymcatch around a year ago after several problems with our previous booking system. Gymcatch is far better value for money and much easier and user friendly for everyone. They are also always working on new ideas and updates to make things even better too.

We were really surprised by how many of our clients use the sub-profile feature to easily book for friends or family which is great to get new people through the door!

We are very pleased with the customer support and advice with the live chat function and the team are always so helpful. We are happy to recommend Gymcatch!

Leanne Craig

Bbodysmart Pilates
"I wish I had found Gymcatch earlier - it has made my life so much easier! I spend less time on admin, my customers can manage their payments and bookings themselves and my classes are busier because booking is easier. I definitely recommend it for anyone running a fitness business!

Tania Smith

Tania Fitness
"Fantastic software at a great price. Really easy to use for myself and my clients. Keeps the cashflow moving!

Mikala Tolley

The Lotus Room
Brilliant entry level Gymcatch is brilliant at what it does and is not expensive. Great value for money. I would recommend it to anyone. Easy to sign up and use and easy to cancel if you need to. Great for start-ups. Check it has all the functionality you need. ☺Gymcatch is an easy system to implement and use. Great for small gyms, studios and PTs. Customers soon got used to using the system and app. Gymcatch is excellent value for money with a great support team. Instant answers and advice via the online chat system. ☹In terms of managing our class bookings and payment Gymcatch is absolutely brilliant. Only moved away because we wanted more functionality, especially marketing and campaigns management within the same tool.
Excellent product Customer service is excellent - fast response ☺Value and functional use. it gives a premium feel to members that they have own app ☹The fact I cannot add any other products I sell through my studio which you could with Mindbody. Should be easy to add!
Best software for bookings and customer service Gymcatch is amazing I used other platforms in the past and they weren't as easy to navigate and amend. Gymcatch is straight forward, user friendly and a great price. The customer support is amazing the team are wonderful and the chat feature is a great way to get support there is also a whole database of videos that walk you through everything. ☺Easy to use and navigate with an abundance of features and clear simple pricing ☹There is nothing I don't like about the software
Perfect for us Faultless, the support team are second to none, a huge plus for any company. ☺As a business it was very easy for us to see who was expected at the premises and it was extremely easy and quick to set up our sessions for months in advance. ☹There was nothing about the software that didn't work for us, it provided exactly what we needed it to do (and more if we had wanted!).
Fitness Manager Brilliant support and easy to use app ☺The booking feature and how the support is always to hand. ☹Pricing feature after adding all the bolts it gets a bit much.
Happy Customer I'm very happy with the app. ☺Easy to use and reasonably priced. Ability to collect client data. ☹I'd love to see more measuring capabilities - e.g. how many clients are purchasing particular packs. This will assist with sales and marketing. An easier way to intergrate the booking system into my website so customers can book directly from my website.
Fantastic option for small fitness business The product was fantastic for my small fitness business as it also provided a professional interface to interact with my clients. Most importantly, the customer service was exceptional with super fast response times that always helped me solve any issues. ☺Creating an easily accessible booking system which significantly reduced by admin time as it seamlessly integrated with payment systems. ☹I had difficulties imbedding the software with my website but in the end I just directed clients to the app and that worked just as well as if I had integrated elsewhere.
Absolutely love this software! Love it! ☺It's simple, easy to use and great support which is easily accessible! This was crucial to me at the beginning of using it! ☹Nothing at all, everything I need is there and support is at the touch of a button!
Gymcatch made things so easy! I chose Gymcatch after using a less flexible playtform that did not integrate with my website and looked very dated. The pre-sales support was great and continued after purchasing. Gymcatch was great for me and users allowing me to concentrate on other areas of the business. ☺The modern, clean look for members and the amazing support from the team. ☹Nothing - everything about Gymcatch is great.
Wonderful App and great technical support Absolutely love this app and Will recommend it to everyone! ☺I like the ease at which clients can make appointments and be notified if they are on a wait list for an opening ☹Not all the features that are accruing the computer are accessible on the app.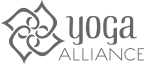 Professional booking and customer management software at unbeatable value
Get started
1 month free. No credit card required. Cancel anytime.