Gymcatch for fitness instructors
Affordable and easy to use booking, scheduling and customer management software for group fitness instructors.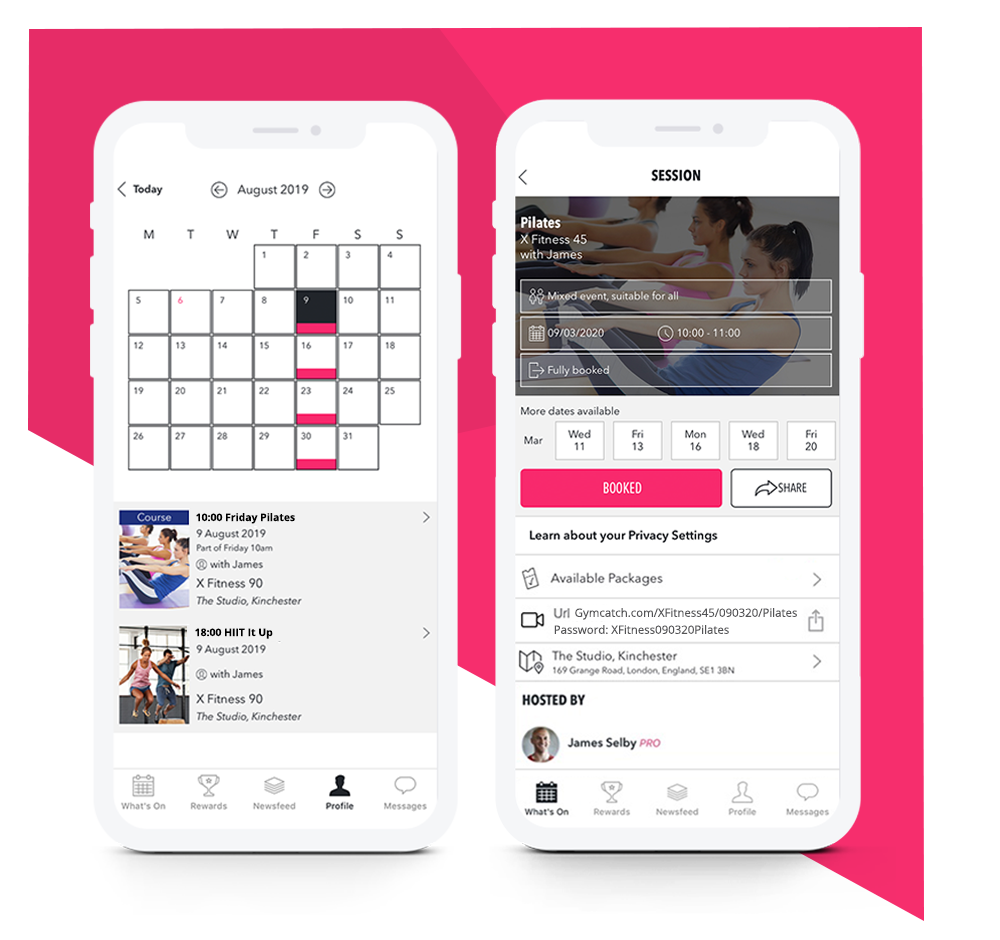 Fitness class scheduling software for every instructor
Manage your schedule, bookings, payments and customers with the most affordable and easy to use fitness class booking software.
Our booking system is designed to make your life and that of your customers easier. Gymcatch comes packed with tools to help you automate all those boring admin tasks and enjoy what you enjoy doing most.
Spend less time on admin and more time in growing your community!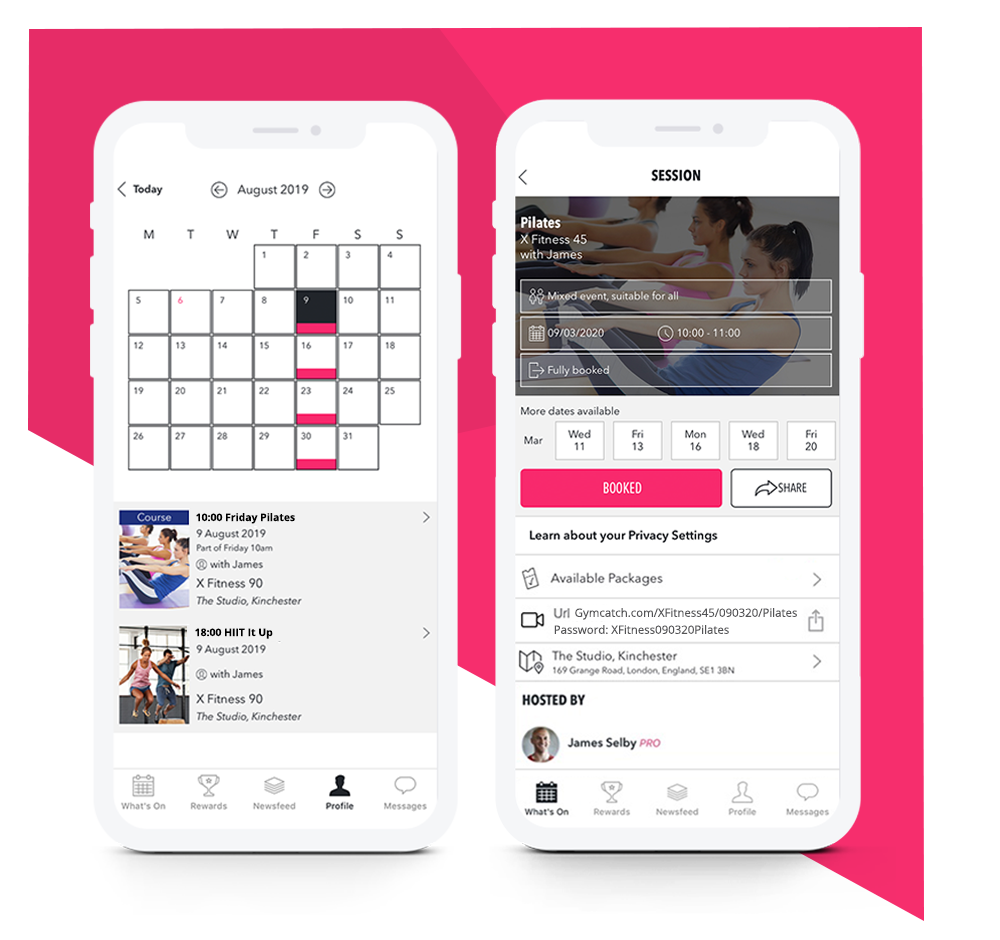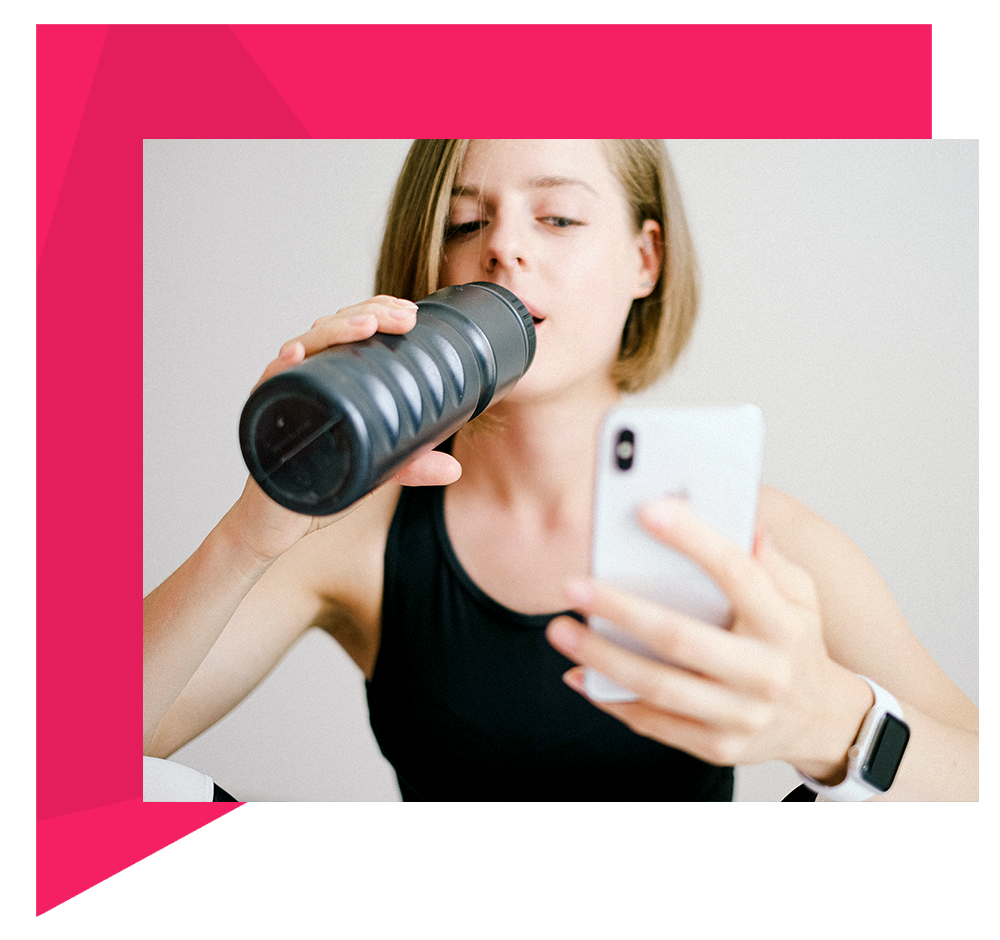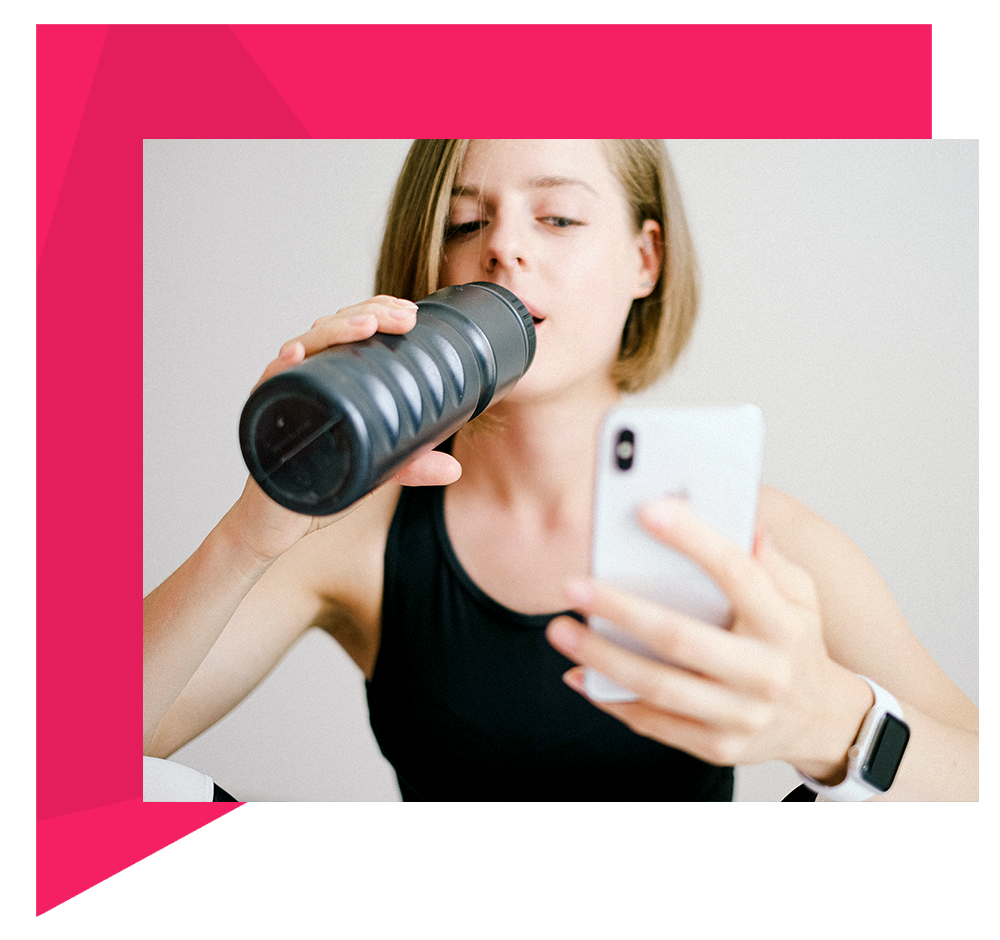 Deliver an efficient hybrid model
Manage your classes face to face, livestream with Zoom or build your on-demand library. Sell passes, bundles, offer discount codes and maximise recurring revenue with memberships. Our features are designed to grow with your business and deliver the perfect hybrid blend for our clients to keep them coming back for more. However you like to sell your services, we have the tools to support it.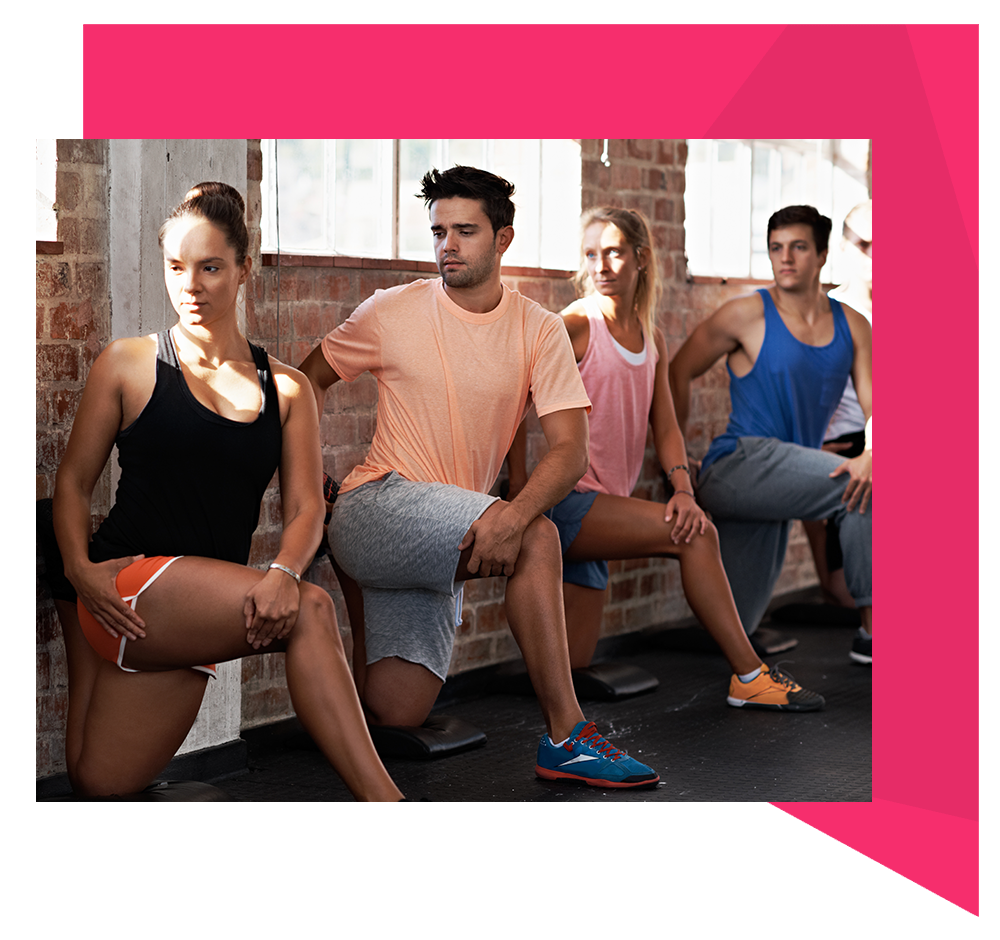 Our social features make it easy for you to communicate, celebrate, update and track progress with your customers. You can automate notifications and reminders for you and your customers, in-app messaging and email.
Our fitness scheduling software is available on iOS and Android apps, and is embeddable with your website making finding your schedule, booking and paying easily.
Staying connected has never been easier!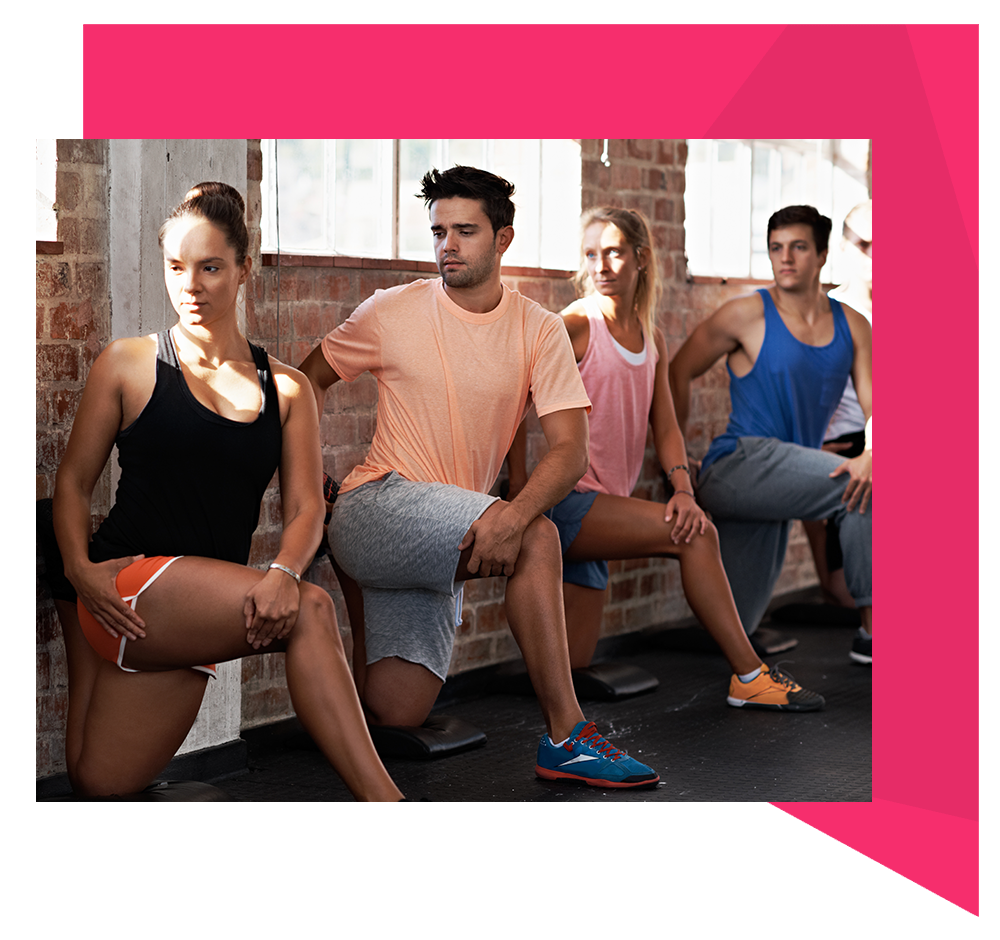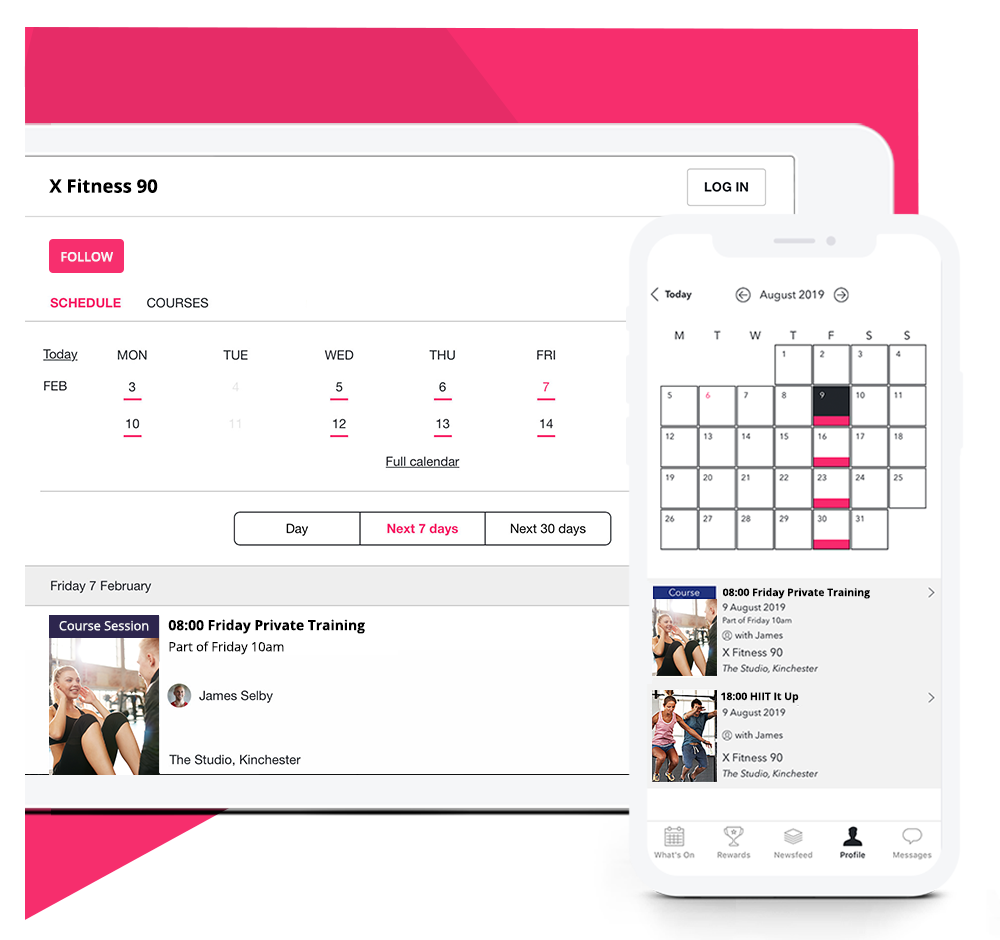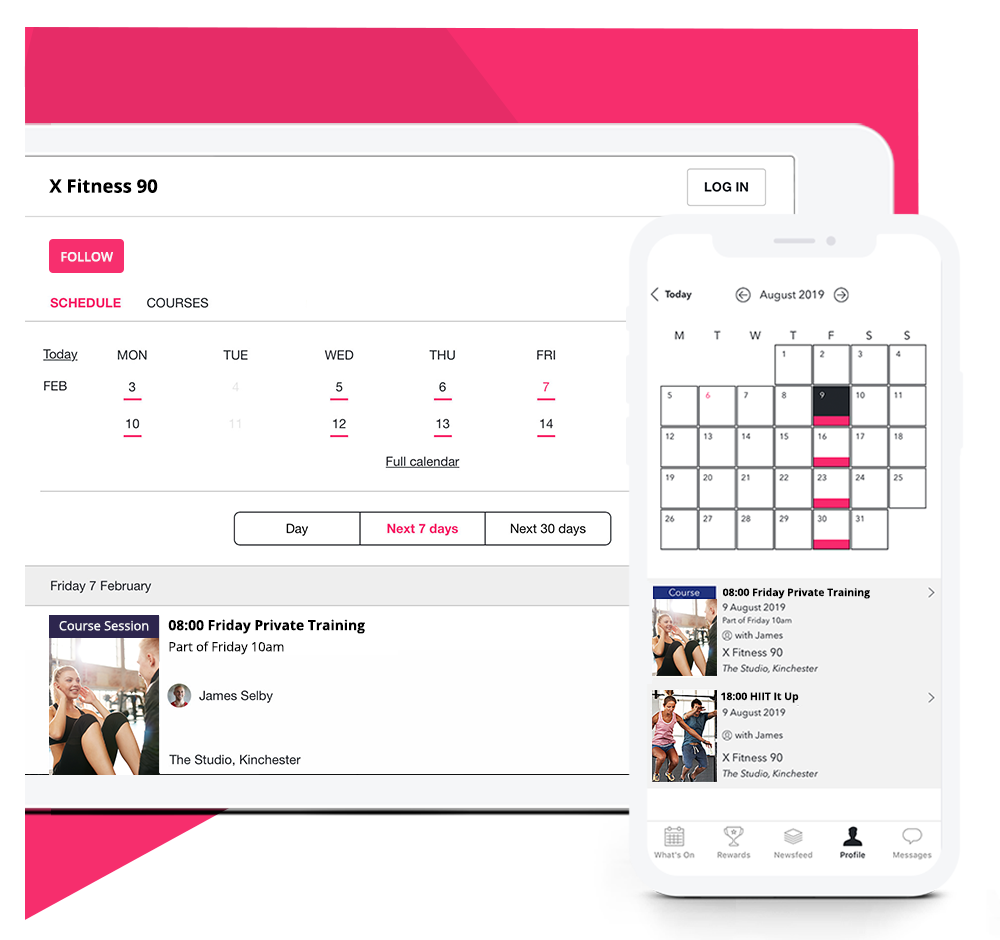 Scalable software at an affordable price
We offer a truly affordable booking system and don't scale costs with usage. Once your trial period is over we bill you on a rolling, month-to-month basis with a simple pricing package where you pay for the base plan and any added bolt on features that you need. We offer a 1-month free trial then is £10/month with any bolt-on costing £2/month.
Make Gymcatch even more affordable by using the free months that you can earn through our peer-to-peer referral scheme.
Gymcatch is powered by referrals
1000s of business owners, sharing a passion for fitness, reducing admin and increasing revenue.
"Using Gymcatch has meant that I have flexibility with my clients as well as keeping my business looking professional. I can focus on what I do best, creating their workouts and supporting them with nutrition, happy days!

Since switching to Gymcatch I've saved £900 a year with no drop off in service to my clients and gained extra functions that make my life a lot easier.

Anna Martin

PT & owner Anna Martin Fitness / Always Moving Forward
"Gymcatch allows me to focus on my classes and clients by taking care of the admin side of my fitness business - creating and managing bookings, distributing links, refunding automatically, as well as helping me monitor attendance and running promotions and discounts to reward loyalty and attract new customers.

My customers regularly tell me that by booking in advance, they are more consistent with their class attendance and less likely to skip a workout!

Gymcatch is simple to set up, the staff are super responsive and also the FREE trial meant I had time to test the system without a long term commitment. I would be lost without Gymcatch!

Matt Print

Fitness with Matt
"I love how I can run my classes on the go and keep on top of everything from my phone. My clients love the app too as they are able to book classes at any time.

Sarah Swainsbury

PT & Owner Celebrity Circuits
"Gymcatch has honestly been the backbone of my business for the past 4.5 years. Without it I would struggle for sure because the admin would be too much. It's like my own 'virtual' personal assistant handling everything for me behind the scenes. It just works… so well!

I've used Gymcatch for group training, personal training and taking classes on Zoom since 2018 and I genuinely wouldn't want to use any other system. The team are amazing and always on hand to help with any queries no matter how big or small.

If you're reading this and considering singing up, I highly recommend you do so… plus it's super affordable!

Ben Hulme

PT and owner Boot Camp at Tulleys
"Before Gymcatch I used to manually send my customers all the invites to my classes which used to take up to 2 hours of my time every week. I've now been able to free up so much of my time. I find it so easy to manage, it took no time to set up my business on Gymcatch and embed it to my website and my clients love it too.

Mickey Wells

MWAH Fitness
"I wish I had found Gymcatch earlier - it has made my life so much easier! I spend less time on admin, my customers can manage their payments and bookings themselves and my classes are busier because booking is easier. I definitely recommend it for anyone running a fitness business!

Tania Smith

Tania Fitness
"The first time I've tried a booking app and for me it ticks all the boxes. The app is great in itself, does pretty much everything other apps do but for a fraction of the cost. Really rate them.

Helen Griffiths

HGFIT
"Gymcatch is brilliant in every way. It's simple to use, both as a business and a client of my business. Right from the beginning the support from the team has been second to none.

Amy Bobbins

Tribe All Fitness
"I love how I can run my classes on the go and keep on top of everything from my phone. My clients love the app too as they are able to book classes at any time.

Sonique Smith

Sonique Fitness
Amazing service ☺This software allowed me to run my virtual online fitness business without having any expertise or ability in website management or creation. Their support was fantastic, the software was utterly reliable and their updates were incredibly useful. ☹I loved this software. No complaints from me
Great inexpensive booking system for a small business Easy. Great service from the team. Always coming back promptly to a question or query. ☺It's easy to use for both the business and the customer and it's affordable. ☹The inability to communicate with customers via text
Couldn't live without gymcatch now !!! I don't think I could work without gymcatch now ! My business is small but it has taken the worry out of wether people will attend or not . The more classes I do the more necessary gymcatch is . ☺It's easy for everyone to use . I have had very few issues and any queries I've had have been answered immediately and I am old and not great with software !! ☹Slight niggle . I have to log on through business portal every time ! Unless I've got that wrong ???
Gymcatch All good and the customer service is excellent offering a speedy response to any queries. ☺Love everything about this software, massively reducing class admin time. ☹There isn't anything I dislike about this product
Business owner Fantastic. Customer service is brilliant The team are always quick to respond and very helpful ☺Ease of scheduling all my sessions, live and ondemand and also so my clients could book sessions easily and cancel. Took a lot of admin time out of my day. Links to zoom and Vimeo ☹Hard to set up at first but [SENSITIVE CONTENT] helped loads. Once you know what you're doing it's really simple and easy to use.
Gymcatch I wouldn't be without it now. I set up my Gymcatch business account during the Pandemic and it met my needs perfectly. Despite now being back to "normality" I wouldn't revert back to cash payments and paperwork. The features it provides make my life much easier ☺Easy to use system which is perfect for my class needs. Booking is simple, managing class size and detail is straightforward and applications for communicating with customers are easy to use ☹Some of the essential features are additional bolt ons. It would be nice if these were included, but I understand why they're not. From an admin point of view I find it easier to use from the website on my laptop rather than through the app on my phone. The reverse is true from a user-participant perspective.
Fantastic Product for Bookings, Scheduling and Payments GymCatch is great for both online and in-person businesses providing services where clients want to pay online and not have to carry their wallets with them. ☺The product was easy to integrate with my Pilates business website, the steps on how to do so we very straight-forward. Being able to see who was booked in to class, get clients to complete health forms before booking and take payments integrated with stripe made this app a great admin tool. Being able to add or remove refunds and give discount codes to clients is also a great useful feature. ☹None..... .....................
How Gymcatch makes booking simple, seamless, and sweet! ☺Gymcatch provided more options than I ever imagined. They made it simple with bolt-ons to select and deselect certain features that may or may not work from month to month. As an early startup, the customer service team was very patient and understanding of our complexities. As the primary administrator, I enjoyed the ease of data collection that Gymcatch provides as a built-in feature. It's very customizable and integrates seamlessly with our website. ☹I didn't have many issues with the software. The training videos are very straightforward whenever I got stuck.
Simple & Effective Software The experience so far has been great. The support team is always willing to go above & beyond to assist in any way they can. Added bonus is there's no pressure to commit; no pushy sales & constant calls. ☺The value for money is great! The software is simple enough to set up even if you have no idea how the backend of programs work & the support staff are always ready & happy to help you through any difficulties. ☹It would be great if there was a way to membership start dates so that clients could commit to their membership in advance. This would be super helpful for new businesses so they could onboard & lock-in members before their open date. It would also be great if memberships could be renewed on a specified rolling basis - 3, 6, 12 months etc. With the option to renew automatically if desired. However there are plenty of ok ways to get around these issues.
From Mindbody to GymCatch They have saved me a fortune and their customer service is always there. Perfect small business or private studio or PT app. ☺The effectiveness for the price is incredible. Does everything I need my business to do. Really happy I made the switch. ☹They are constantly evolving and adapting to the point I can't really fault them at this stage. We all want the stars, but in general they keep it coming. Last update and features has elevated my Members' experience.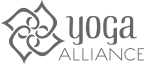 Professional booking and customer management software at unbeatable value
Get started
1 month free. No credit card required. Cancel anytime.